Watch Dogs Spider-Tank gameplay: time for Digital Trips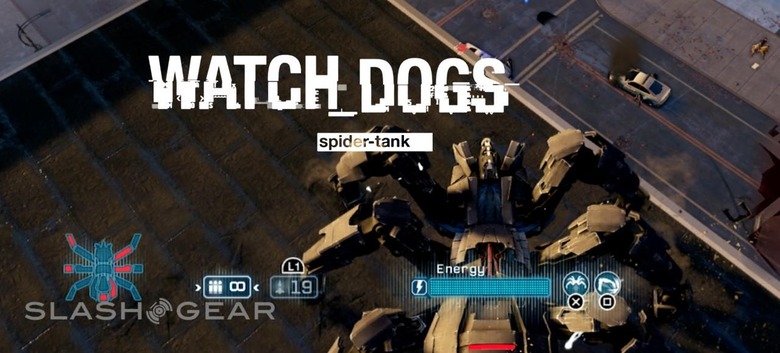 There's a side-game in Watch Dogs that users will be wanting to play as soon as they possibly can once the title is released next month: Digital Trips. In this altered reality, the user is brought to one of at least two optional worlds. One is Madness, the other is Spider-Tank.
Digital Trips are like taking drugs in-game. Instead of drugs you ingest, this experience is brought yo you with audio waves that alter your perception of reality. You'll gain points for doing well in these games in a manner not entirely unlike similar access points in the game Saint's Row.
As you'll see in the demonstration video below, once you've walked up to a Digital Trips dealer and choose your trip, the dealer will effectively point at you to make you collapse into this alternate reality. From that point on, your gameplay becomes utterly, utterly strange.
Madness
This is just one of two Digital Trips we were invited to take earlier this month in a Ubisoft-hosted Watch Dogs event. With the PlayStation 4, we controlled the main character Aiden Pearce as he entered Madness. Here you control a heavy metal vehicle looking like it's straight out of the film Machete or Death Race 2000.
You're in a destruction derby with Madness, only here your goal is running down as many devil-run cars or humanoids as possible. The description of this adventure reads: "Skills allow you to kill multiple deamons at once or take down Control Freak cars."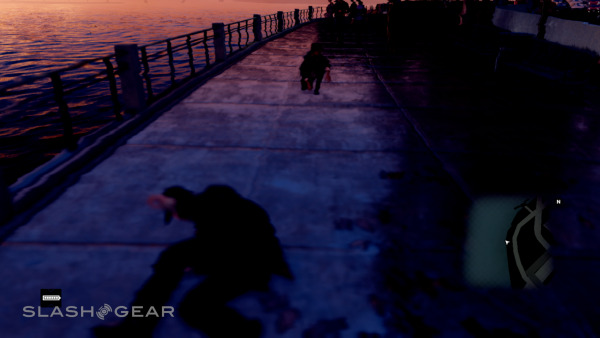 Unfortunately for now, we're unable to show you any gameplay from Madness. The same is not true of Spider-Tank, a bit of the game Ubisoft is more than ready to blast out unto the public.
Spider-Tank
This beast made his debut earlier this year in a glimpse inside a demo video. He also appeared in some leaked images as well, stirring up quite a fervor amongst the ravenous. Our experience with Spider-Tank was entirely satisfying – for those that love destruction, of course.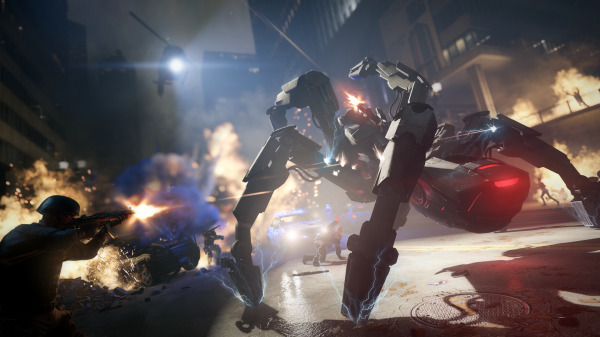 According to the game when describing Spider-Tank: "Your destruction score raises your level. When you reach a new level you earn a skill point. This allows you to unlock skills and increase spider-tank abilities."
You'll collapse as you would with any other Digital Trips adventure, only here you're either inside the Spider-Tank or you've effectively become it. With the PlayStation 4's DualShock 4 controller, X makes the spider jump. Square has you smashing whatever's in front of you with spider arms, and L1 brings on the rockets.
Right trigger with Spider-Tank fires the machine gun – or the mini-gun, whatever you're considering sounds better. You're given points for how much you smash, and it's beyond entertaining to walk amongst the rabble and be chased by police cars controlling an 8-footed beast.
Wrap-up
This is but a glimpse of the massive cross-section of oddities inside Watch Dogs. This game isn't just about hacking, it's about expanding your view of what it means to live inside a diverse gaming environment.
Everything from playing poker to entering in-game augmented reality landscapes to jumping in to your best friend's game to sneak up on them – this game brings the heat. We'll be bringing on a full review of Watch Dogs sooner than later. Until then, have a peek at that PC-based demonstration video above and let us know what you think.
NOTE: Sony's PlayStation blog suggests that the gameplay you're seeing here is from the PS4. Though you can see PS4 button prompts, to the best of our ability to judge, this gameplay is much better quality than we saw earlier this month in our PS4 demo play. This footage was provided by Ubisoft, if it wasn't clear before. Check our Watch Dogs first-impressions article for further details.