Watch Dogs Legion lets you play as anyone you want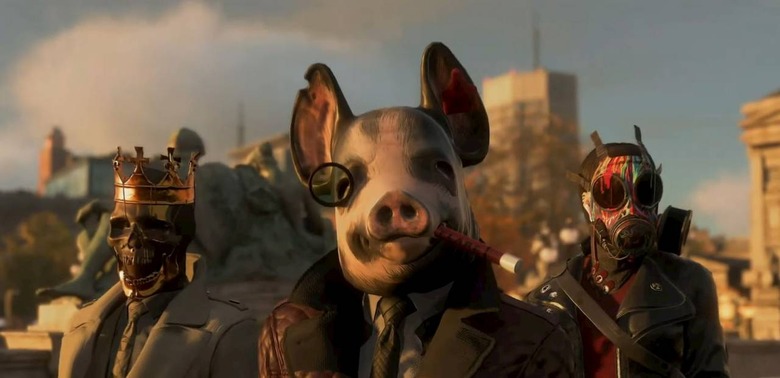 As teased in the lead up to E3 2019, one of Ubisoft's big reveals at the show this year was Watch Dogs Legion. In the third game in the series, we'll still play as a member of DedSec, only this time, the setting shifts to a near-future London that has been swallowed by authoritarianism. It'll be DedSec's job to fight back against mass surveillance and oppression through hacking the world around you, but this time, there's an interesting little twist that separates Watch Dogs Legion from the games that came before it.
In Legion, you'll be able to recruit any of London's citizens to your cause. Ubisoft says that each of the people you see in this virtual London have been created specifically for the game. None of them are randomly generated, with each having their own set schedules and abilities that could make them a worthy addition to DedSec's ranks.
You'll be able to play as any of the characters you meet around London, assuming you can recruit them to DeadSec first. You'll do that by helping them as you play, selling them on the idea of joining DedSec in the process.
Ubisoft says that this allows you to build your DedSec team however you wish, but notes that you'll need to think carefully when it comes to confrontation in Legion, as the characters you recruit can wind up permanently dead if you make the wrong people angry. If you prefer the company of actual people, you can also hop into four-player co-op with shared progression across online and solo play.
Watch Dogs Legion won't be launching for a while – its release date is March 6th, 2020 – but Ubisoft has already worked out the four different editions it'll be offering at launch. You'll find them listed below, with descriptions of each taken from Ubisoft's blog:
• The Standard Edition, which includes the base game.

• The Gold Edition, including the base game, Season Pass (including the Not In Our Name story mission, available at launch), and three-day early access.

• The Ultimate Edition, which contains the base game, Season Pass, early access, and Ultimate digital content including the Urban Jungle Pack (with three new characters, along with their masks and outfits) and four weeks of VIP status, which earns experience and currency more quickly.

• The Collector's Edition, exclusive to the Ubisoft Store, which includes everything in the Ultimate Edition as well as an LED Ded Coronet Mask Replica, a Steelbook case, three exclusive stickers, and a recto-verso propaganda poster, as well as instant access to an in-game version of the Ded Coronet mask.
All four editions are currently up for pre-order on Ubisoft's store, with the Gold Edition running $99.99, the Ultimate Edition coming in at $119.99, and the Collector's Edition setting you back at not-insignificant $189.99. Watch Dogs Legion will be launching on PlayStation 4, Xbox One, PC, and Google Stadia, and we'll look forward to learning more in the coming weeks.