Warpia Easy Dock Pro Supports Full HD Wireless Video Streaming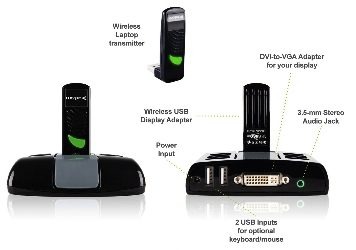 Warpia has updated its Easy Dock wireless display system, adding 1080p support to both HDTVs and monitors. The Warpia Easy Dock Pro allows you to stream HD video from a PC or Mac to a nearby display, with both screen mirroring and extending supported.
Both DVI and VGA outputs are present, and there are also two USB ports – for plugging in peripherals such as keyboard and mouse – together with a 3.5mm headphone jack for streaming audio. The transmitter is a simple USB dongle that plugs into your computer.
Up to 1920 x 1080 resolution is supported, and Warpia reckons that any content online should play; we're guessing that means there are no DRM hassles, too. Best of all, it's priced the same as its predecessor: $149.99.
Press Release:
Warpia Debuts Advanced Wireless Docking Station: The Easy Dock Pro

USB adapter wirelessly streams 1080P content from your laptop to your 25" monitor or HDTV

SAN JOSE, California – November 15, 2010 – Warpia, a company dedicated to bringing single-chip wireless USB solutions to the mainstream, is thrilled to announce the availability of the new and improved Easy Dock Pro. The Easy Dock Pro allows you to wirelessly connect a laptop to your desktop monitor, keyboard, mouse, and speakers, or to your big-screen TV in HD quality.

Unlike its predecessor, the Easy Dock, the Easy Dock Pro is capable of displaying any online content in stunning HD quality. Compatible with Mac or PC, it also supports monitors and other displays up to 25" with resolutions of 1920x1080 via a DVI or VGA connection. While the Easy Dock Pro does "mirror" your laptop screen, it also offers "extend mode" which allows you to operate two displays simultaneously, as if your TV were connected to your laptop. Its plug-and-play functionality is perfect for the digitally optimized home.

"The Easy Dock Pro creates a synergy between laptop work and play," says Marc Levaggi, VP of Marketing for Warpia. "You can simultaneously work on an Excel spreadsheet while streaming Netflix on a larger TV or monitor. It also gives you the freedom to walk away with your laptop, and then reconnect to your desktop environment or TV by simply walking back into the room."

The Warpia Easy Dock Pro can now be purchased on Amazon.com and on Warpia's website for $149.99, which includes a one-year warranty. For more information or to purchase, please visit www.warpia.com.

About Warpia:

Warpia, a branch of Source R&D, is a premier technology brand specializing in wireless streaming of High Definition Audio & Video. Warpia provides sales opportunities for ODMs, resellers & retailers with unique products and superior customer support. For additional details, visit the Warpia website at www.warpia.com