Warner Bros launches HD DVD to Blu-ray trade-in program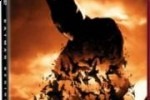 If you found yourself caught up in the Blu-ray vs. HD DVD fight and came out on the HD DVD side, you're probably finding yourself with a small collection of DVDs that are pretty much useless right now. Luckily, Warner Bros. is going to try to help you remedy that problem.
The movie studio is now offering a trade-in program called Red2Blu that allows people to trade in 25 Warner Bros. HD DVDs and have them replaced with Blu-ray versions.
Of course, this new program isn't free and it'll cost you $4.95 per disc plus $6.95 for shipping on each DVD. What is kind of cool though is that you don't have to send in the discs to the WB, rather, you just need to send in the cover art for the HD DVD discs you own and want replaced.