Walnuts May Lower Blood Pressure, But Only With This Diet Tweak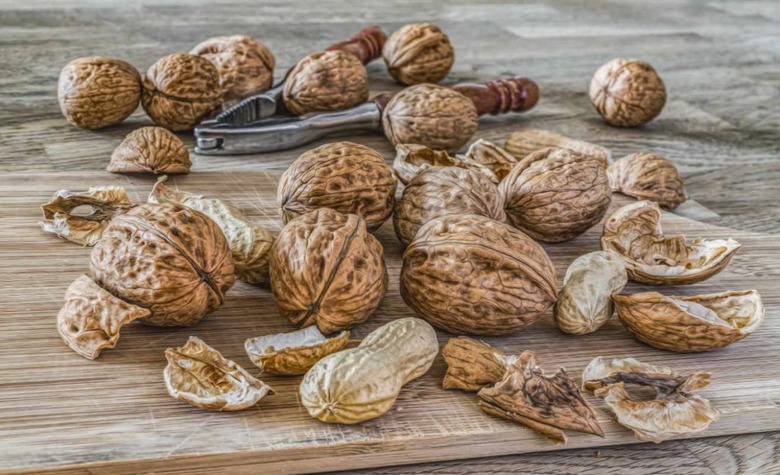 Walnuts are an excellent source of omega-3 fatty acids and are often recommended as a healthy fat source for health-conscious dieters. The small nuts may be an excellent dietary choice for individuals at risk of cardiovascular disease, as well, at least according to a new study out of Penn State. Researchers found that eating walnuts combined with a simple diet adjustment may reduce blood pressure levels.
According to Penn State researchers, eating whole walnuts on a daily basis — when combined with a diet low in saturated fat — may reduce central blood pressure, reducing the individual's risk of developing cardiovascular disease. Central blood pressure refers to the pressure exerted against organs.
The positive effects weren't simply due to cutting down on the amount of saturated fat dieters consumed, according to the study — saturated fats are often consumed from animal products like meat and butter, but are also found in some plant-based products, including coconut oil.
The study involved 45 participants who were either overweight or obese, and who were ages 30 to 65. The participants consumed a special diet for two weeks before the study's start to ensure they all began with the same dietary intake — in this case, one that mimicked the average American diet with 12-percent of calories coming from saturated fat.
Following that, the participants were split into three groups, all with 5-percent of the saturated fat intake replaced by either vegetable oils or whole walnuts. After six weeks, the group that ate walnuts experienced the greatest health benefits, which included a drop in central diastolic blood pressure. All participants saw some level of health improvements, however, highlighting the importance of keeping saturated fat consumption low.