Walmart's Nintendo Switch Splatoon 2 bundle in stock (for now)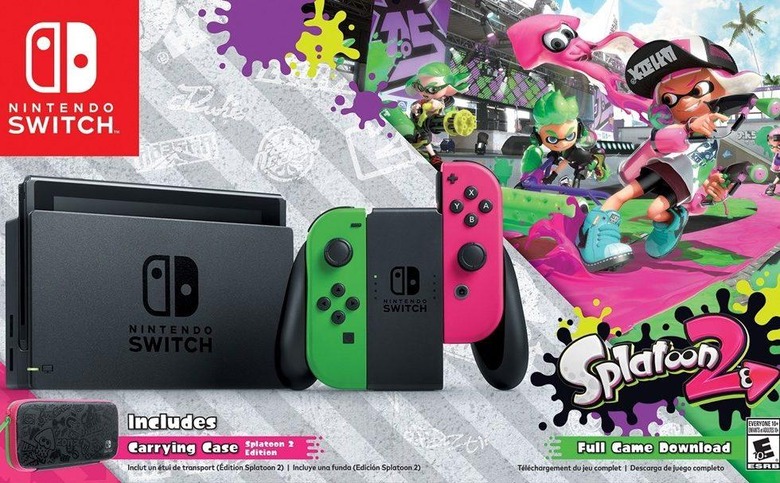 Just a heads up for those of you still trying to get a Switch: it may worth checking out your local Walmart. Beginning today, Walmart is offering a number of limited edition Switch bundles – the first official bundle we've seen here in the US. As with all things Switch, these might sell out quickly, so you might want to check with your local store (or stores) at some point today.
This bundle comes with a Nintendo Switch and a code for a digital copy of Splatoon 2, along with a Splatoon-themed carrying case for the Switch. It also gets you a pair of neon pink and neon green Joy-Cons. Though we'll likely see these new Joy-Cons become available separately at some point down the road, these colors seem to only be available in this bundle for the time being.
The bundle is also exclusive to Walmart, so if you don't have one nearby, you might be out of luck. At the time of this writing, the bundle still appears as in-stock on Walmart's website, but that isn't likely to last very long. If you can't manage to snag one online, you could always head into a store, but given the popularity of the Switch since launch, you might want to jump on it sooner rather than later.
This may one of the best chances you'll have to buy a Switch before the holiday shopping season is in full swing. This week, Nintendo of America president Reggie Fils-Aime stated that Nintendo isn't sure if it will be able to make enough Switch consoles to keep up with demand around the holidays. Though Nintendo may be able to boost production enough that supply meets demand as we close out 2017, it certainly isn't encouraging when someone like Fils-Aime expresses uncertainty.
Of course, this bundle will cost you a little more than a standalone Switch. Walmart has given this package a price of $379.99 – not too bad when you consider the extras you're getting, but more expensive nonetheless. We'll see how quickly these Switch bundles manage to sell out, so stay tuned.