Walmart Bundles Xbox One S With Minecraft, V-Bucks, Xbox Live Gold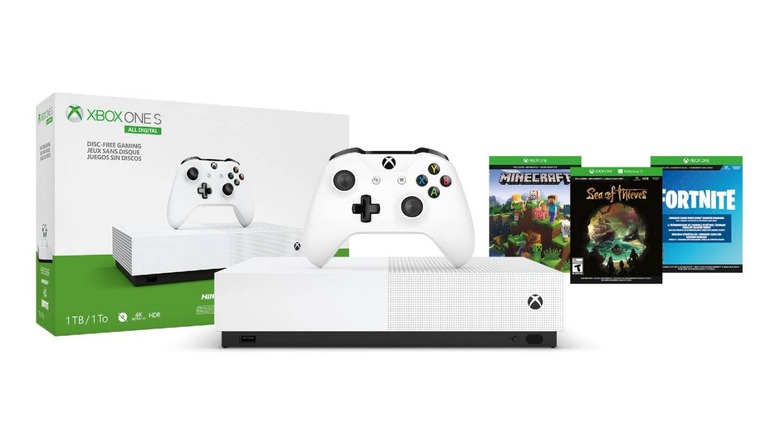 Walmart has launched a new relatively cheap Xbox One S 1TB console bundle that includes three games, one of which is free, as well as extra perks on top of it like V-Bucks and a long free Xbox Live Gold trial. This is the slim digital-only version of the Xbox One console, meaning it doesn't have a disc drive and can only be used with digitally downloaded games, music, and movies.
The Xbox One S has always been the cheaper version of the current-gen Xbox lineup due to its digital-only nature. The new bundle is ideal for Minecraft and Fortnite players who want to make the jump from mobile or PC to a gaming console, offering them various perks along with the games (and Sea of Thieves to get them started.
Obviously given the fact that this is an Xbox One S console, the games come in the form of digital download codes, not discs. The bundle includes one free month of Xbox Live Gold, enabling buyers to play the games online without the added subscription fee. A wireless controller comes with the console.
The inclusion of Fortnite Battle Royale isn't exactly a perk because the game is available to download for free. The benefit here comes in the form of 2,000 V-Bucks, which has a value of around $20 USD. These digital bucks can be spent on skins, weapon wraps, back bling, emotes, and other items offered in the game's Item Shop.
The bundle is priced at $149.99 USD, which is around the current regular price for the Xbox One S console. Walmart claims the normal price for this console with the games and added perks would be around $100 more expensive than the bundled price. The kit is available through the company's website now.