Walmart announces 100th solar installation in California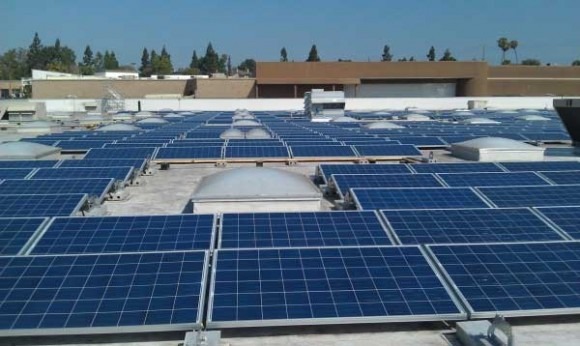 You only have to set foot in most Walmart stores to know that the company wants to be green. For instance, in my local store, there are hordes of skylights all around the building in the ceiling and lights in the store turn off and on depending on how much light is coming through those skylights from the outside. That means you to be walking around and suddenly some of the lights turn off making the interior darker. I assume most Walmart locations use similar systems.
As strange as that is, it clearly shows that Walmart designs stores with an eye toward using natural lighting and saving electricity. Walmart has announced that it has installed its 100th solar installation in the state of California. The 100th store to get a solar panel installation was Walmart location on College Avenue in San Diego. Walmart says that the solar panel installation is the latest step on its road to being supplied by 100% renewable energy in all locations.
According to Walmart, its green initiatives also generate significant jobs at each location with an average of 48 contract positions per site. Walmart also states that its focus on solar power has generated more than 3000 contract construction jobs in California alone. Walmart has a significant solar footprint in the state of California with its total combined solar effort generating up to 70 million kWh of clean renewable energy each year.
That is enough power for 5400 typical homes. Walmart is also eliminating 21,700 metric tons of carbon dioxide emissions each year. That is equivalent to taking 4100 cars off the road. The solar installations are able to provide 10 to 30% of each facility's total electricity needs.
"Walmart has demonstrated a real commitment to solar energy systems here in San Diego and throughout California, and hopefully other companies will make the move to do the same on their rooftops," said Tony Young, San Diego City Council President. "This latest renewable energy effort is another step forward in San Diego's clean-energy mission and will help make our city a better, more sustainable place for current residents and our next generation."