Wallit is like Foursquare with chat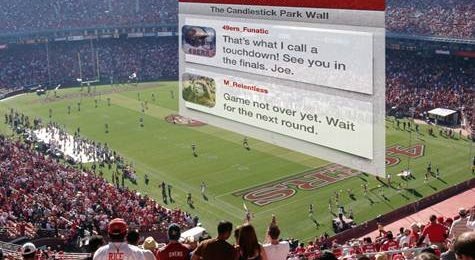 Wallit is an ambitious little app. It wants to be part Foursquare, part Facebook, part instant messaging, and part augmented reality. The final product is something that is genuinely unique in its own right. The app, which launched for the iPhone and iPad today, lets users create posts on a "Wall" of a stadium or other location, but only if those users are at said location.
So here's how it works – you take out your iPhone at your favorite sports arena or whatever venue it happens to be, and by pointing the camera at various locations throughout the venue, you'll see posts and comments made by other users who are there.
The app is called Wallit, and the CEO of the namesake company Veysel Berk was quoted as summing up the experience by saying, "We are trying to socialize augmented reality experiences." He said, "With location at the center of our system, augmented reaity is just the natural extension of that."
Essentially, it's like Foursquare but with the social aspect taken to a much larger degree. Foursquare lets users boast about where they are to friends who are somewhere else, while Wallit wants you to show where you are, to other people who are at the same place. The company says it has already created virtual walls in venues throughout New York City, San Francisco, and Paris, and is continuing to build more. It has received more than $1 million in venture capital.
[via VentureBeat]