Wall Street Journal For Android Tablets Hands-On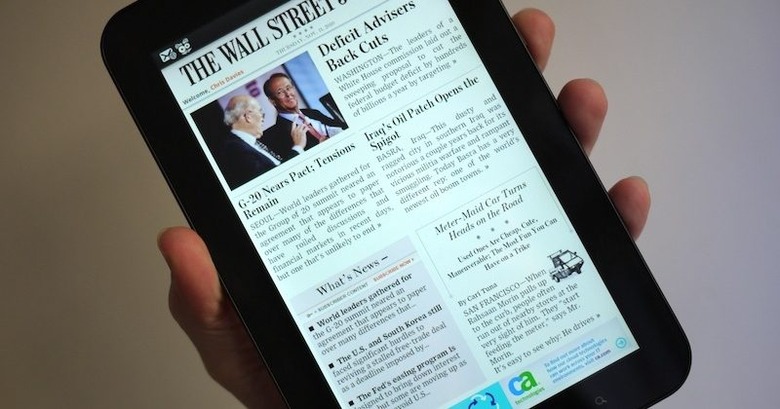 The Wall Street Journal's app for Android-based tablets has hit the Android Market, and we've been testing it out on the Samsung Galaxy Tab. Exclusively for large-screen devices, rather than Android smartphones, the WSJ app has been tweaked to suit the real-estate a 7-inch slate like the Galaxy Tab offers; it's a free download with limited access to certain daily articles with a basic registration, or full access for $3.99 per week. Check out our first impressions after the cut.
The app itself makes decent use of the Tab's display, with both portrait and landscape orientations supported. As we've seen in news apps on the iPad, the layout is like a regular paper and you tap into each article to read it fully; unfortunately we noticed an off-putting amount of lag loading a new article (over a WiFi connection), and on a few occasions we couldn't be sure if the tap hadn't been recognized or if the content was just slow.
Tapping the header pulls up a list of sections, though there's only a limited amount of content to view with a free account. Subscriber-only articles show a brief preview and are flagged with a small key symbol; only subscribers can save articles for later offline reading (we were able to save an article from today's edition for later reading, but we won't be able to access it tomorrow) or access archive issue from the past seven days. The app itself automatically updates daily, in sync with the regular published version, and an alert is flagged up in the Android notification bar.
Individual articles can be scrolled with a finger or by tapping tiny page up/page down buttons in the bottom right hand corner of the screen. They're next to font size buttons; there's no multitouch pinch-zooming support, which we missed, and you can't adjust font sizes in each of the sections, only individual articles. Swiping left and right moves between articles in each section, and generally the pages moved and scrolled quickly and smoothly. A Share button pulls up the usual Android sharing options – email, Bluetooth, etc – putting a link to the online content in the new email rather than clipping the whole article.
Video clips somewhat confusingly have a large play button in the center when viewed in-page, but you actually need to hit the small plus symbol at the top right corner before they'll load. There's also a Quotes feature, for showing stock performance of companies, and this works as you'd expect from the WSJ site. A Watchlist allows you to keep track of your portfolio.
In all, it's a reasonably slick app, though we'd like to have seen more control over font sizes and the data lag was frustrating at times. Obviously some will take issue with the $3.99 per week subscription fee, though of course the WSJ already charges for full online access and current subscribers will – for a limited time – get free use of the tablet version. As the first proper Android table app it's solid; we'll have to see how slates other than the Galaxy Tab handle it to know if the platform is as consistent as Apple has ensured on the iPad.
Hands-on video:
[vms 0fa56e57789e2a2f2c9d]