'Walking Dead' spinoff officially named, debuts this summer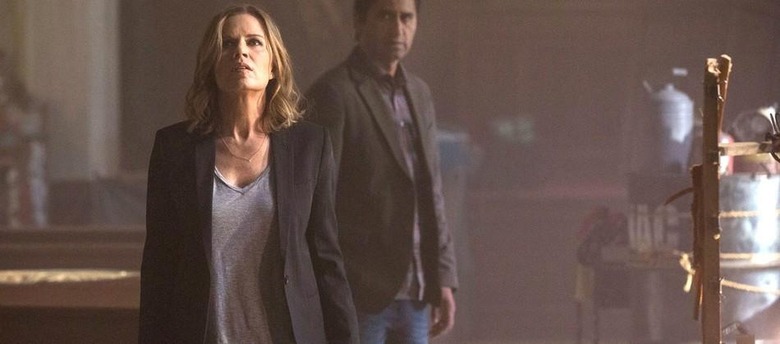 As fans of AMC's The Walking Dead are well aware, the finale of season five is airing this weekend, meaning the long wait until the show returns in the fall is about to begin. But wait, there's good news! The spinoff series, which will introduce new characters and tell a new story, is set to premier this summer! And while we've known this new show has been in the works for some time now, author of the comics and executive producer for the TV series Robert Kirkman has finally revealed the official name: Fear the Walking Dead. Creative, huh?
Kirkman revealed the show's title in a post to Twitter on Friday. Fear the Walking Dead will also be on the AMC network, and is scheduled to begin this summer, although a specific date hasn't been revealed. The first trailer for the new show will run during a commercial break on the 90-minute season five finale of The Walking Dead, airing this Sunday.
Among the details we know already, Fear the Walking Dead will be unrelated to the original comics, and thus can tell its own story. We will get the chance to see new characters in the same world as The Walking Dead, but in a different location and time from the original series. Taking place in Los Angeles, the new show will begin with the initial outbreak of zombies and reveal how society then fell apart.
In AMC president Charlie Collier's own words, "From the beginning of The Walking Dead on AMC, we've been asked questions about what was going on in other parts of the zombie apocalypse, and what it looked like as the world really did 'turn.' Through this new series, we're going to find out."
Gone Girl's Kim Dickens will lead the cast, which also includes Cliff Curtis, Frank Dillane, and Alycia Debnam Carey. The first season will consist of six episodes, each one hour long, and AMC has already ordered a second season to be made, a good sign this new show will be a decent contribution to the Walking Dead universe.
VIA Variety
SOURCE Robert Kirkman/Twitter