Wal-Mart to sell 3G iPhone gets Official, only $2 cheaper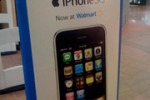 An official announcement today confirmed the leak of an internal Wal-mart memo detailing its iPhone 3G rollout and nullified any $99 4GB iPhone speculation from the mega-retailer. Starting Sunday, Wal-mart will sell the Apple phones for $2 less than the regular price with a two-year contract to be available at its 2,500 chained-store.
The "Every day low price" of the 8 GB iPhone 3G will be selling at $197 and $297 for the 16 GB version, not much of a deep discount we were hoping from the giant retailer. In fact, you can pick one up at local Best Buy for $7 less! But here's the catch, Wal-Mart said they'll match any local retailers cheaper price; that could promote more wiggle room on its company and others retailer to cut into their own margin in order to discount the Apple phone.
Not the best timing of the year considering the announcement came days after the holidays, but Wal-mart will bring iPhone to many areas and places where there are no Apple store nor an official AT&T store around.