Wahoo Fitness unveils new iPhone powered stationary bike trainer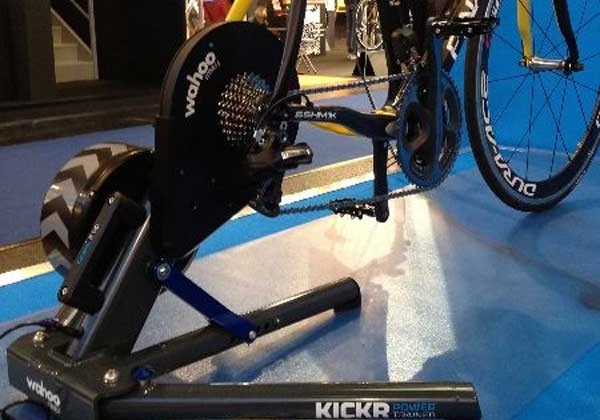 If you're serious bicyclist rather than riding some generic exercise bike, you might prefer to ride your own bike even if you can't get outside to do it. I'm sure there are a number of systems on the market that will turn a normal bike into a stationary bicycle and Wahoo Fitness as a new stationary trainer that uses the iPhone for control. The new stationary trainer is called the Wahoo Fitness Kickr Power Trainer.
The device claims to be the world's first iPhone powered by trainer and promises to allow cyclists and triathletes to set resistance and accurately measure their power using app-based workouts. The device will debut in the US this November and uses Bluetooth 4.0 and ANT+ technology. While pedaling the user will be able to increase or decrease the resistance and simulate the real world bike courses while using the iPhone as the control. The resistant adjustments are instantaneous.
Users are able to replicate everything from a flat or rolling hill course to coasting downhill after a climb. The device uses a wheel off design and a flywheel to produce a realistic road feel. Wahoo Fitness promises that the device delivers a feel equivalent to the inertia of an actual rider on the road.
The system works with top cycling applications, including Trainer Road and Kinomap Trainer. The device can simulate different rides from coasting down hills to pedaling up a 15% grade. The rider can measure their power output in watts and their speed via apps. Wahoo also says that it's one of the quietest trainers on the market. Pricing is unknown at this time.