Wacom introduces Bamboo Slate and Folio smartpads, Bamboo Omni stylus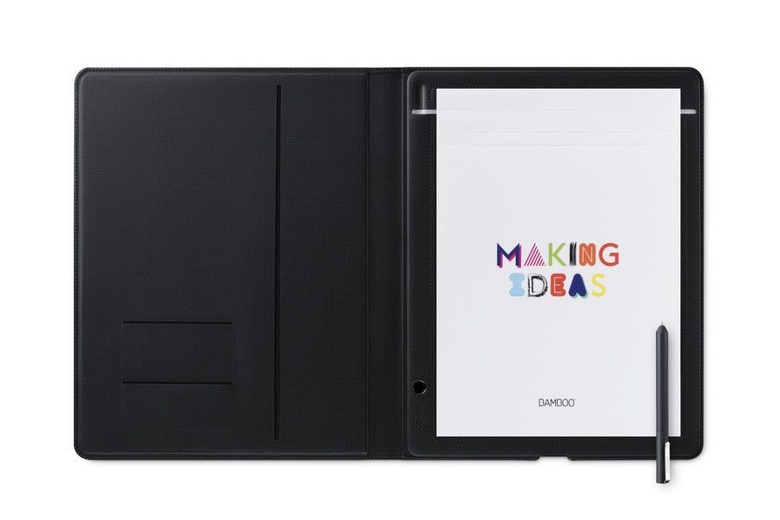 Wacom has announced a slew of new devices at IFA 2016, attempting to bridge the gap between taking notes on physical paper and storing them in the digital space. This new product line includes two new smartpads – the Bamboo Slate and Bamboo Folio – and a new stylus dubbed the Bamboo Omni. As if that weren't enough, the company is also launching refreshes of its existing Bamboo Solo and Bamboo Duo styli.
Starting off with the new smartpads, the Bamboo Slate and Folio are geared toward getting folks who are more comfortable taking notes and making sketches on physical paper into the digital world. Employing Wacom's Electro Magnetic Resonance pen and WILL smart ink technologies, users are able to start writing on physical paper and then, just by hitting the button present on both the Slate and the Folio, upload those notes or sketches digitally through the Wacom Inkspace app.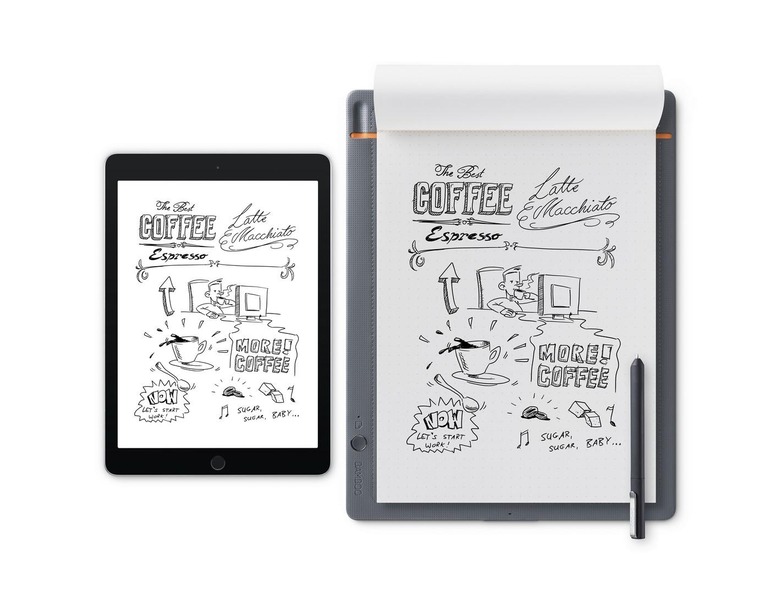 Once they've been uploaded to Inkspace, users have a few options, as they can use the app to make edits and export them as JPG, PNG, WILL, or PDF files to services like Bamboo Paper, Dropbox, Evernote and OneNote. They can also be uploaded to Inkspace's cloud service, which comes with 5GB of storage for free or 50GB of storage for $4.99 per month. Those who pick up a Slate or a Folio will not only get a free three month subscription to Inkspace, but they also get a discount on the monthly cost once it comes time to pay up, bringing the price down to $2.99 instead of $4.99.
The Bamboo Slate comes in two varieties – though they look the same, one is smaller, compatible with A5, half-letter sized paper, while the other is larger and can house A4, letter-sized paper. The Bamboo Folio is only available in the larger A4 size, but it comes with an integrated cover that can be used to store items like business cards. The small Slate will set you back $129.95, and the large one comes in at $149.95. The Bamboo Folio rounds out the group with a price tag of $199.95.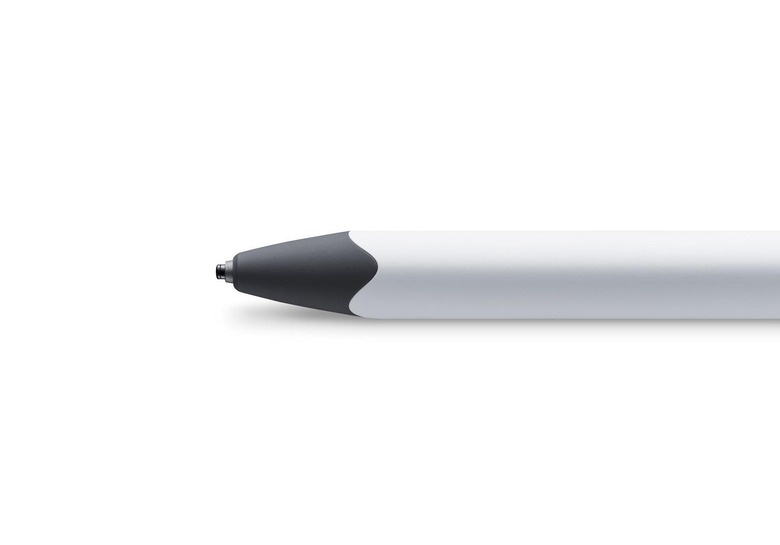 When it comes time to jump to the digital realm and continue those notes or sketches you started on a Slate or Folio smartpad, Wacom has just the thing: the Bamboo Omni stylus. Perhaps the most attractive feature of the Omni lies in the fact that it doesn't need to be paired with devices. Instead, Wacom says that users simply need to twist the stylus and it'll be instantly ready to use across Android and iOS. The Omni comes featuring an ergonomic, triangular design, a 1.9mm pen tip, and is charged via micro USB.
Meanwhile, Wacom has refreshed the Bamboo Solo and Bamboo Duo styli, adopting the Omni's triangular design. These refreshes, along with the Omni, will all be available in November, and they'll vary in price. The Bamboo Solo comes in at $19.95, the Duo will run $29.95, and the Omni will set you back $49.95.
So, there you have it. All in all, not a bad showing from Wacom at IFA 2016, especially with its new smartpads. Will you be picking up one of these new devices?