Wacom Cintiq Companion Windows 8 and Android tablets unveiled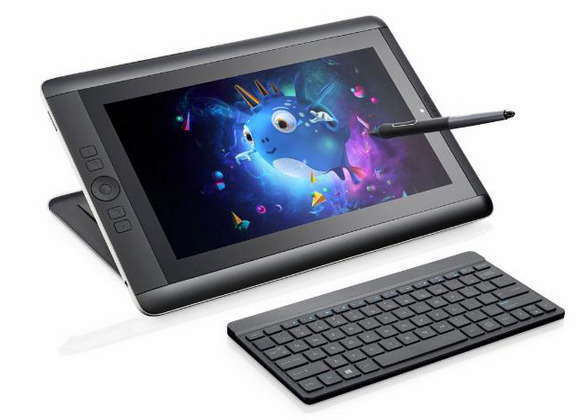 Wacom has taken the wraps off its two new Cintiq tablets, the Cintiq Companion running Windows 8 and the Cintiq Companion Hybrid running Android. Both allow users to take their graphic work on the road, although the Hybrid Android version is more limited than the Windows 8 variety. Both will begin rolling out later this year, with the Hybrid coming first.
First up is the Cintiq Companion model, which features third-generation Intel Core processors and Intel HD Graphics 4000, as well as 8GB of RAM. The amount of on-board storage depends on which model you get, with two being offered: 16GB and 32GB. This model can run full versions of software used by professionals, and can be a complete experience in and of itself.
The Cintiq Companion Hybrid, meanwhile, runs Android when used standalone, and can also funciton as a traditional Cintiq slate when connected to a PC or Mac. This tablet offers less functionality when used as a portable device, with Wacom calling it a "digital sketchpad." Inside, users will find a Tegra 4 processor and Jelly Bean.
Both tablets feature Bluetooth connectivity, WiFi, front and rear 2-megapixel and 8-megapixel cameras, a standard audio jack, and an integrated microphone.
The Cintiq Companion Hybrid Android model is priced at $1,499 USD for the 16GB model and $1,599 USD for the 32GB model. The Cintiq Companion Windows 8, meanwhile, is priced at $1,999 USD for the 256GB SSD model, and $2,499 USD for the 512GB SSD model. The Companion Hybrid model will roll out in the middle of September, while the Windows 8 model won't arrive until sometime in October.
Said Wacom's Professional Products Brand Director Don Varga: "The new Cintiq Companion line enables mobile creatives to carry out their jobs without compromising on the high performance required for delivering professional-grade design and artistic output. This is a truly ground-breaking product line that redefines the way creative professionals work, empowering artists and designers to immerse themselves in their work without being confined to a traditional studio or office."
SOURCE: PRNewswire