Wacom Cintiq 22 pen display adds bigger screen for smaller price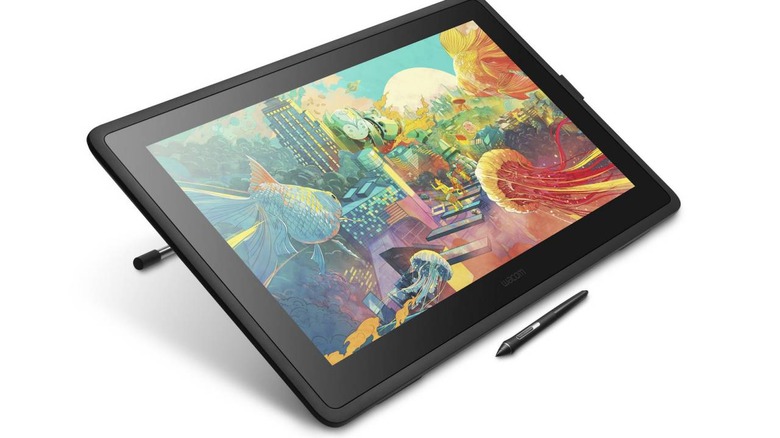 Wacom has a new Cintiq pen display, and if you've wanted a sizable art and design tablet-screen before but couldn't quite stomach the price, the Cintiq 22 might be the one. Larger sibling to the Cintiq 16, the new model has a 21.5-inch 1920 x 1080 IPS display that works with Wacom's Pro Pen 2.
With that, you get 8,192 levels of pressure recognition, both for the tip of the Pro Pen 2 and its eraser at the opposite end. The stylus is battery-free and cordless, has two side buttons for shortcuts, and the Cintiq 22 can recognize up to 60-degrees of pen tilt.
The larger body of the Cintiq 22 over the existing Cintiq 16 means Wacom could fit in more ports, too. The smaller pen display uses a 3-in-1 cable port, combining video and power into a single connection. Tidy, yes, but not so great if you lose or break the cable, or just want a second one.
The Cintiq 22, however, has room for separate HDMI and USB-A ports. There's also an AC adapter thrown in, and Wacom includes an adjustable stand and a detachable pen holder with three replacement nibs. Options include Wacom's Pro Pen slim and Pro Pen 3D styli, and the Wacom ExpressKey Remote.
If there's a downside, it's the resolution. Both the Cintiq 16 and the new Cintiq 22 run at 1920 x 1080 Full HD resolution, which means anybody hoping for more pixels along with their bigger panel will be disappointed. That's not to say the larger screen isn't better in other ways, mind: at 22 ms, it has a faster response time than the 16-inch model, and the viewing angles are slightly improved.
The display has a 1,000:1 contrast ratio, and 210 cd/m2 of brightness. The stand can tilt between 16- and 82-degrees, unlike the 19-degree fold-out legs on the smaller model. Wacom clearly isn't expecting Cintiq 22 owners to be moving their pen display around much, however: at over 12 pounds it's about three times as heavy as the Cintiq 16, and there won't be an official carrying case offered.
Those artists and designers who want 4K resolution and an optically-bonded display will still want to look to the Wacom Cintiq Pro line, but there's a significant price difference between the ranges. The Wacom Cintiq 22 is shipping this month, priced at $1,199, whereas a similarly-sized Cintiq Pro 24 Touch clocks in at $2.5k.