Wacom Cintiq 21UX: $2k of 21-inch super-sensitive graphics tablet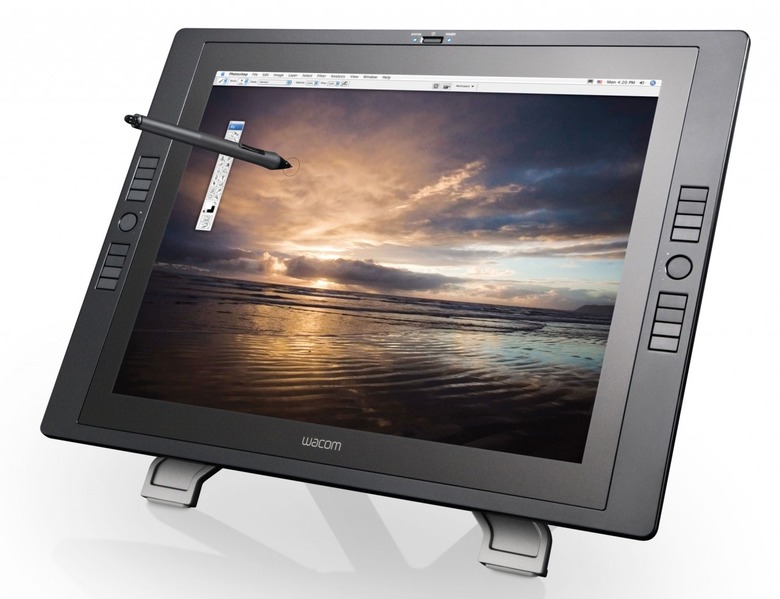 Wacom have announced their latest Cintiq combination LCD display and graphics tablet, and it's a monster.  The Wacom Cintiq 21UX has a full 21.3-inch 1600 x 1200 4:3 LCD display and an active digitizer that recognizes 2048 levels of pressure.  They've also thrown plenty of hardware controls at the tablet; the Cintiq 21UX has eight programmable shortcut buttons on either side of the display, together with a touch-strip on either side of the rear bezel.
Toggle buttons allow you to control up to four different features with each touch-strip, via the round control on the front.  That way you can cycle through multiple brush settings all with one hand, while actually using the stylus with the other.
That stylus has a tilt range of +/-60 degrees and Wacom reckon you hardly need to be pressing it to the display in order to begin painting.  The 21UX itself can rotate 180-degrees and tilt between 10- and 65-degrees, while connectivity is via DVI-I.  Of course, as with other Cintiq tablets none of this comes cheap; the 21UX is $1999.99.
[via Gizmodo]