VXR racing sim possibly more realistic than actually driving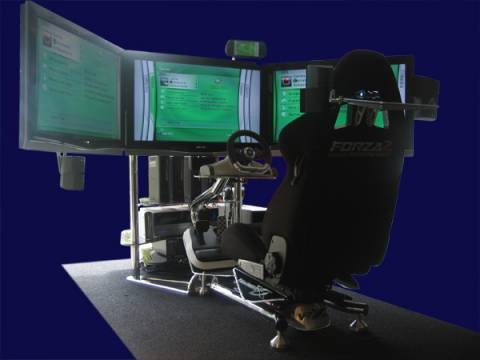 Perhaps with all the high-spec hardware shining in their eyes we can forgive them the hyperbole, but when you make bold claims like "the most advanced racing hardware on the planet" about your simulator you should probably clarify that you're not actually including proper race-cars.  While four Xbox 360 Elite consoles, a trio of Sharp Aquos 37-inch 1080p HD LCDs and 10-speaker surround sound Bose setup are bloody impressive, they probably aren't quite as hardcore as, say, a Ferrari F1 car.  Still, the VXR "Limited Edition 001" is still quite a beast.

Built around a custom aluminium and chrome frame with tinted shelving, the genuine Sparco Monza racing seat puts you in front of those three LC-D62U high-def displays and a 7-inch Power Acoustik rear-view "mirror" display.  Microsoft's own force-feedback wheel and pedals take care of control, and a Harmon Kardon AVR-144 surround sound receiver handles 1900 watts of sound.  Meanwhile, a 1500 watt vibration feedback unit does the business on your buttocks.
The whole thing comes with four copies of Forza Motorsport2 and was made available in limited (undisclosed) numbers from the end of May.  Price most definitely on application – but at least you get a cup-holder, which I imagine is lacking on the Ferrari.
VXR [via Red Ferret Journal]