VW Touareg R Plug-In Hybrid To Debut In Geneva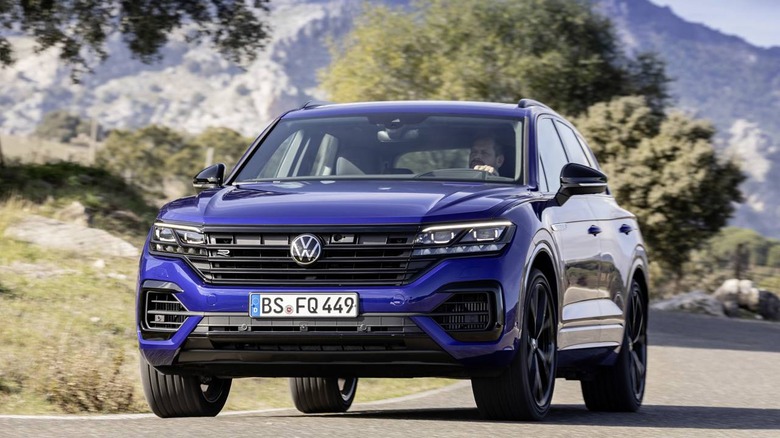 VW will be unveiled a new electrified vehicle at the 2020 Geneva Motor Show. The vehicle is the VW Touareg R plug-in hybrid, and it has an impressive power output of 462 PS (about 455 horsepower). VW notes that this SUV is the first R-Line model that is available as a hybrid.
Touareg R has a maximum trailer weight of 3.5 tons and comes with permanent 4Motion all-wheel-drive. The plug-in hybrid can drive for up to 140 km/h under electric power. Drivers will be able to "cover typical commuter distances with zero emissions."
Presumably, that means the driving range on electricity alone is in the 20 miles per charge range. That number is the average daily commute for most people. VW's hybrid powertrain is combined with a turbo V6 engine that makes 340 PS on its own. The electric drive motor ads in another 136 PS. The combined torque is 700 Nm.
VW fits the SUV with a 14.1 kWh battery pack in the luggage compartment underbody. The engine and transmission are paired up with an 8-speed automatic transmission. VW's automated driver-assist system, Travel Assist, enables assisted driving at up to 250 km/h.
The VW Touareg R marks the first time that a hybrid model has been the automaker's most powerful vehicle. When the car debuts in Geneva, more information should surface. Many want to know exactly how far it drives on electricity. Those in the States who like the idea of this are out of luck; the Touareg isn't sold in the States anymore. It was pulled from the market several years ago due to poor sales. Pricing is also unannounced, but VW says the VW Touareg R will land in the second half of 2020.