VW T-Cross teased ahead of fall debut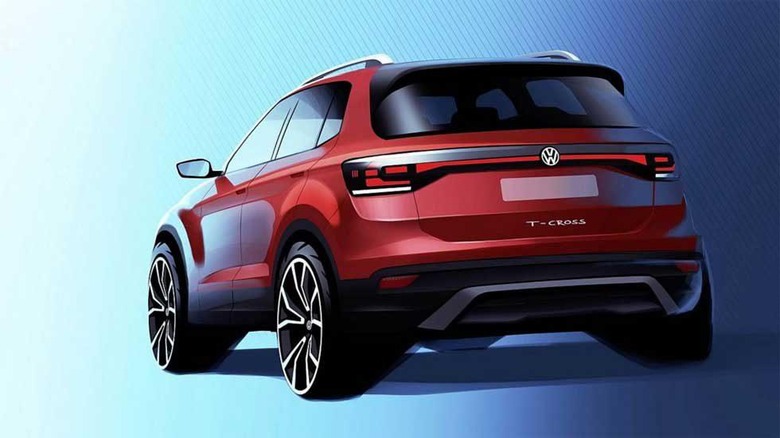 VW is teasing its smallest crossover so far that is set to debut this fall. The crossover will be called the T-Cross, the same name VW used for a concept at the 2016 Geneva Motor show. The production T-Cross will be completely reveled this fall.
The teaser image here shows a very VW looking ride that uses the same MQB A0 platform that the SEAT subcompact crossover uses. The T-Cross will measure 161.69 inches long and will go into the line beneath the T-Roc, which is a very good-looking SUV on its own. T-Cross will be very small, but VW promises some voodoo that will give the ride a "surprising amount of room" inside.
Rear seat riders will have extra knee room thanks to a sliding bench seat that can also be slid forward when more storage is needed. VW has said that T-Cross will also be one of the safest crossovers in its class with Front Assist and Lane Assist. The front end of the crossover looks very familiar with a style similar to the existing Arteon and Touareg.
The crossover will feature full-width taillights in the back. As for power rumors suggest that the T-Cross will use a small 1.0L TSI, four cylinder 1.5L TSI, or a 1.6L TDI engine. It would be a surprise if that diesel makes it back to the US with lingering issues resulting from the massive VW recall.
An FWD model is a guarantee, but if a 4Motion AWD flavor will be added is a mystery. Small crossovers aren't known for AWD offerings, but that is something that could set the VW apart in a crowded small crossover market. The official debut is expected at the 2018 Paris Motor Show.