VW Golf R Touch concept previews tomorrow's dash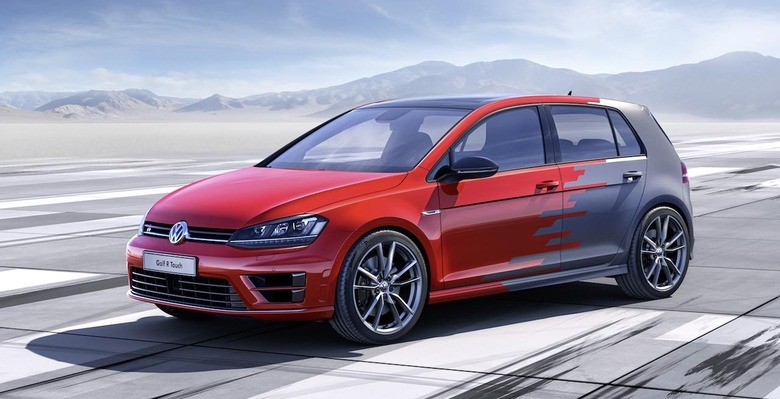 CarPlay and Android Auto are a good start, but Volkswagen is already looking to the next generation of digital dashboards, and it's not letting itself get distracted with far-fetched gimmicks. While we're used to seeing concept cars with fancy but impractical flexing displays or touchscreen that wrap entirely around every surface, VW's approach in its Golf R Touch concept is far more practical, centered around a 12.8-inch high-res touchscreen and then throwing in gesture control, ambient lighting, and haptic feedback. Lest you think the Germans have lost their sense of humor, though, there are also vibrating seats.
The concept starts with the premise that touchscreens are more practical than physical switches, given the rise in the number of features modern cars include. So, there are several big displays in the concept Golf: a big 12.8-inch 2,560 x 1,700 touchscreen in the center stack, an 8-inch Control Center screen with touch beneath it, and a 12.3-inch 1,920 x 720 digitized instruments panel in the driver binnacle.
On the main screen, there are customizable blocks for things like weather, multimedia, navigation, and other features, as well as an optional 3D representation of the car showing status of things like lights, windows, and more.
Underneath there's a touch-sensitive slider strip, with LED illumination and proximity sensors, that can be used for more precise control: volume changes, for instance, or control of the ambient LED lighting. It can track the number of fingers in contact, too, and change function accordingly.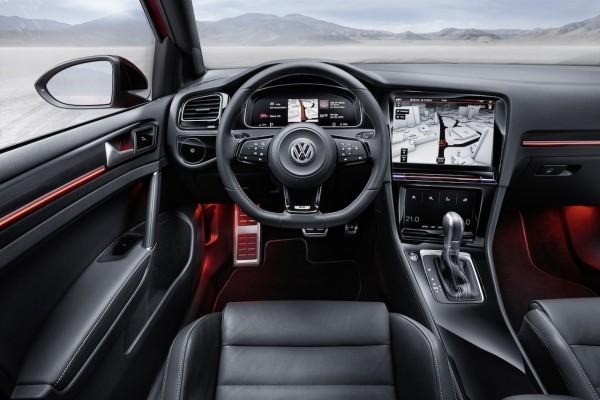 Still, you needn't actually touch it to get a response. A 3D camera mounted in the roof tracks a hand, allowing users to point at a feature and then "jab" it virtually. Seat adjustment and the sunroof can be controlled similarly, gesturing first to them and then using finger and hand movements to open or close them.
The Control Center display underneath handles HVAC and multimedia, and features haptic feedback to mimic not only the feel of pressing real buttons, but of dragging your finger from one key to another. It can also recognize pressure, for how hard each button is pressed.
Finally, there's the driver display. All of the traditional analog instrumentation is gone, replaced by virtual representations, and as we saw from the Audi TT's Virtual Cockpit last year, can be flexibly reconfigured to focus on different metrics at different times.
So, if you're concentrating on driving, you could have engine speed and road speed take priority, while for more casual cruising it might be preferable to have media library information take up some of the space instead.
That media gets a boost with "bass shakers" integrated into the front seats, physically vibrating in time with the music.
When, exactly, these sort of features might start showing up in production vehicles is unclear, though with things like huge, high-resolution TFTs already featuring in premium models from VW stablemate Audi, it's seemingly a case of "when" not "if."