VW California camper has everything, even the kitchen sink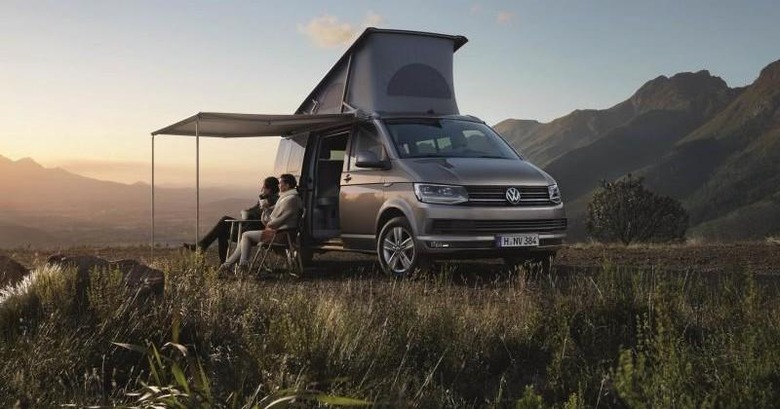 We've seen Volkswagen cars that hit the road with much gusto, and ones that hit any type of road, but what if you wanted to live on the road, almost literally and completely? Lucky for you, there's a Volkswagen for that too. Based on the T6 Transporter van unveiled just last April, the new California T6 line, composed of the Beach, the Coast, and the Ocean, come with all the amenities you'd expect, including lots of seat and bed space, gas stove, and, of course, a kitchen sink.
Launched back in 1988, the California range has exemplified life on the road with its fold-out double beds, pop-up roof which adds an additional sleeping area, folding bench seat that doubles as another bed, and a set of kitchen tools that will make journeys not only bearable but also enjoyable. The new T6 model takes things further, with both grand and subtle changes. Now more spacious, the California can, depending on the model, seat 5 or 7 passengers and sleep 5. There also smaller changes that still prove the engineers' attention to even the smallest details, like the new multi-functional holder for the rear compartment. And being a model Volkswagen vehicle, the California can be equipped with the latest technological advancements, from driver assistance to App Connect infotainment.
Of the three new Californias, the Beach represents the entry level. But don't be deceived, as it comes with a seven passenger capacity. Manual pop-up roofs, two different layouts for the bench seat, and rotating front seats make for both a comfortable and social life inside the camper. The removable camping table hidden in the sliding door and the folding chairs hidden in the tailgate also open up avenues for some fresh air enjoyment.
The California Coast is the newest of the three and emphasizes the motorhome character more than the others. As such, it has slightly less room for passengers, down to five. To make up for that, it comes with a kitchen unit that boasts of a stainless steel sink, 42-liter cool box, and a twin-hob Piezo ignited gas cooker.
The Ocean is the top of the line camper van, adding auxiliary heating, Climatronic, and more. And instead of the manual pop-up roofs on the Beach and Coast, the Ocean employs electrohydraulic power to control it.
Ironically, despite the name, the new Volkswagen California T6 models are not sold in California, or anywhere in the US for that matter. Advance sales of the new Californias have started in Germany, with prices starting at 41,429.85 EUR, or roughly $45,433.
VIA: Auto Blog