VW Atlas Basecamp Concept Shows Off Official Accessories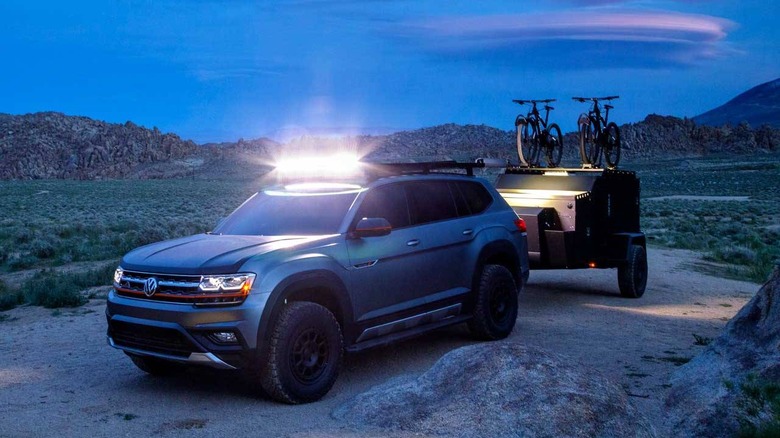 The VW Atlas is a 3-row large SUV that has been around for a while now. VW has a new concept vehicle based on the Atlas caleld the VW Atlas Basecamp. As the name suggests, the ride is designed to be the base of operations for weekend adventures and vacations. The concept thas a custom body lift, lift kit, custom wheels, all-terrain tires, roof rack, and LED lighting.
VW says that the concept highlights a few of the ways that the Atlas can be enhanced for trail seekers. Basecamp was designed with endurance mountain biking in mind according to VW. VW started with an Atlas SEL Premium and painted the ride platinum gray and black uni with a matte finish and orange accents.
Power is from a standard 3.6L VR6 engine that makes 276hp mated with an 8-speed automatic transmission and 4Motion all-wheel drive with Drive Mode selection. While it looks robust and off-road ready, the Atlas is no Jeep and isn't meant for heavy off-roading. The wheels seen on the Basecamp are from fifteen52 and will go into production this fall.
The custom body lift kit is by Air Design, and H&R makes the lift kit with coil over springs rasing the Atlas height 1.5-inches. The Front Runner Slimline II roof rack with bike holders and off-road LED lights add style and utility.
The trailer it pulls is a HIVE EX expedition trailer with matching wheels and tires. The trailer is a camper that has a queen-size bed, pullout canopy, kitchenette, stove, sink, and everything else you expect. VW says the Basecamp can be seen in person at the 2019 New York International Auto Show and the 2019 SEMA show.