Vuzix ships widescreen iWear AV310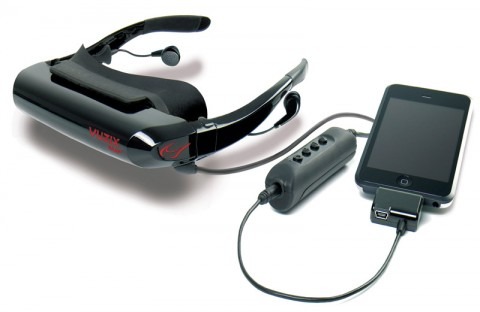 Vuzix has today announced an immediate shipping of its Vuzix iWear, AV310, a personal video eyewear that's virtually wielding a giant 52-inch large screen display over your head, from any video sources on-the-go. The new AV310 claims World's first virtual reality eyewear with widescreen aspect ratio, and is a better-equipped unit compares to the AC230 XL we reviewed last month.
According to Vuzix, the company has recently increased the Av310 production due to unexpected higher market demands, and the AV310 is the not only the first-ever widescreen personal eyewear, but also loaded with "state-of-the-art technology at a price point far below anything our competition has to offer".
But does this thing really work? Skeptical, it is? Make you wonder how a dual 428 x 240 LCDs could project up to a 52-inch as good as a real TV. We did like it better than restrained entertainment on a PMP or cellphone display. When you get yours, let us know what's you thought? It's shipping now at $250, and should be available from Brookstone, SkyMall, MicroCenter, Hammacher Schlemmer and Vuzix.com.
Compatible devices include:
• All iPod models
• Portable media players
• Video cameras
• Cellular phones with video output
• Gaming consoles
• Digital cameras
• DVD players
The AV310's high quality features include:
• Virtual 52' screen viewed from 9-feet
• Full 16:9 Widescreen Aspect Ratio
• Independent +2 to -5 diopter focus, providing individual adjustment for each eye
• Twin high-resolution LCD displays
• "Vuzix' 3D" watermark compliant
• Removable and comfort fit earbuds
• Adjustable, hypoallergenic nosepiece
• AccuTilt™ viewer with 15 degrees of tilt adjustment
• Up to 5 hours of battery life on one AA battery
• On screen display settings control
• For use with or without eyeglasses
• MSRP $249.95