Vuzix iWear AV310 Widescreen Video Headset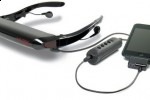 Vuzix's iWear "personal video eyewear" has been around for some time, but the company has just announced its first ever widescreen 16:9 aspect video headset.  The iWear AV310 Widescreen gives wearers the impression of a 52-inch TV viewed from nine foot away, and is compatible with iPods, PMPs, video cameras, cellphones with video outputs, games consoles, digital cameras and DVD players.
No specific information for the two Kopin Corporation "high-resolution" LCD displays is given, and the product page is, at time of writing, bare.  However you do get independent +2 to -5 diopter focus, providing individual adjustment for each eye, and an AccuTilt viewer with 15 degrees of tilt adjustment.
The AV310 includes built-in headphones (with replaceable earbuds) and the nosepiece is both adjustable and hypoallergenic. Apparently they're suitable for glasses wearers too, and a single AA battery in the wired control unit will provide up to 5hrs of use. Settings can all be tweaked on-screen, so you don't even have to take the headset off.
The iWear AV310 Widescreen will be available with an MRSP of $249.95 from Brookstone, SkyMall, MicroCenter, Hammacher Schlemmer and Vuzix themselves. No release date has been given.  Update: Vuzix tell us that the iWear AV310 will be shipping within the next month.