Vuzix Blade smart glasses on sale as a $999 AR eye-upgrade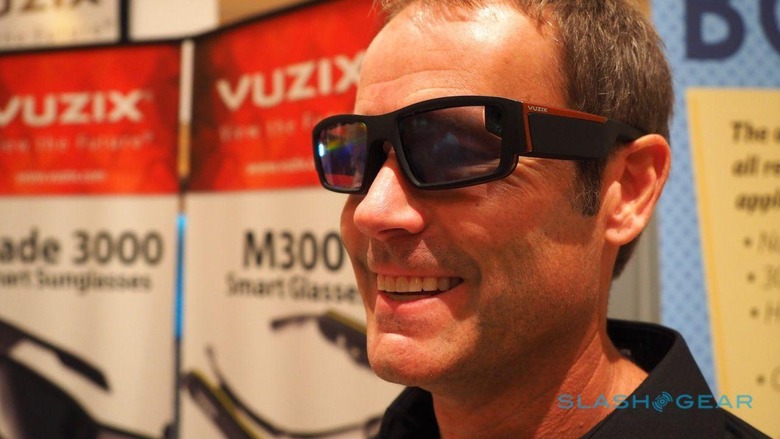 Vuzix has brought its Blade AR smart glasses to CES for the past couple of years, but ahead of CES 2019, it's shaking things up a bit. Though we still expect Vuzix to have the Blade on hand at CES, it's doing things a bit differently this year by putting the AR specs up for pre-order. Developers, enterprise customers, and enthusiast consumers who want to get in on the ground floor can pick up a pair beginning today.
As you can see from the image above, the Vuzix Blade stands out from other AR glasses – such as Google Glass – by looking as much like a real pair of glasses as possible. Obviously, there's a lot more hardware attached to a pair of Blades than there is to a standard pair of glasses, but the idea is that you won't look entirely out of place while wearing them.
To hear Vuzix explain it, it seems that Blade works best as a companion to your smartphone. When paired, you can receive things like floating navigation instructions and notifications on the right lens thanks to a projector embedded in the frame. There's also a touch pad on the right temple of the glasses, which allows you to interact with the Blade's floating display. Over on the left side, an 8MP camera has taken up residence behind the lens, so you can shoot video or snap photos with the Blade as well.
One interesting twist to these smart glasses is their compatibility with AI assistants. The Vuzix Blade already supports Alexa and there are plans to support Google Assistant, so in a way, these glasses act like a portable smart speaker you (presumably) always have on you. Then again, you can say the same about smartphones compatible with Google Assistant or the Alexa app, but regardless, it's still neat functionality.
Vuzix is launching the Blade at $999.99, which is a price point it's been expecting to hit for years now. You can order a pair from Vuzix's website today – though the glasses won't ship out until 4-6 weeks after you place your order, you'll get instant access to the Vuzix Blade Developer Center when you buy a pair.