VuNow IPTV box gets CinemaNow movie streaming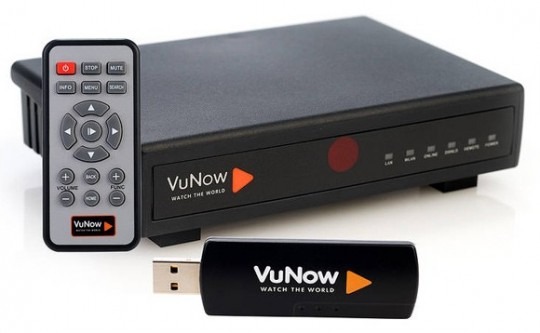 Verismo Networks have added Roxio CinemaNow streaming media purchases to the list of talents their VuNow IPTV box can boast.  The video-on-demand box can already show streaming content from local network storage or YouTube, and now adds Sonic Solutions' 250 content providers to its line-up.
The VuNow system consists of a set-top box, available in standard- and high-definition versions, and a USB WiFi dongle which is used to stream content directly to the VuNow PoD.  As well as CinemaNow content and YouTube, the setup can also access popular websites, internet TV and more, together with play content stored on USB drives.
CinemaNow titles are available in pay-per-view format, and include films, TV shows and music videos.  The VuNow SD is on sale for $129, while the VuNow HD is available for $149. 
Press Release:
Verismo Networks Teams with Sonic to Bring Big Screen Entertainment to the Television

Verismo adds content from Roxio CinemaNow to its VuNow platform, giving consumers access to Thousands of Hollywood movies on their TVs

Mountain View, CA, July 28, 2009 – Verismo Networks and Sonic Solutions® (NASDAQ: SNIC) are bringing Hollywood blockbusters and world class films to living rooms everywhere. Adding the popular Roxio CinemaNow® content to the VuNow Internet TV platform, Verismo is enhancing the entertainment options for movie lovers – letting people watch an extensive content library directly on the TV without a computer.

Verismo's VuNow™ Internet TV platform is the first solution that allows consumers to watch and enjoy any content from the web right on their television, without having to connect a computer in between. The palm-sized VuNow Pod gives consumers access to a wide range of online video content including movies, YouTubeTM videos, and live global TV channels, with a click of the remote.

The agreement with Sonic further expands VuNow's content offerings. Through relationships with more than 250 content providers, including all major Hollywood studios, the CinemaNow library includes thousands of high-quality Hollywood movies, TV shows, and music videos.

"VuNow offers consumers the broadest choice of online video content for today's living room," said Prakash Bhalerao, CEO of Verismo Networks. "By partnering with Sonic, we're able to give our customers even more entertainment options – from TV episodes to Hollywood new releases.

"Consumers are increasingly turning to the Internet for easy and convenient access to entertainment content. Our relationship with Verismo will give entertainment lovers greater ease in accessing premium digital content from the comfort of their living rooms," said Mark Ely, executive vice president of Strategy, Sonic Solutions.

Verismo Networks sells the VuNow Pod directly to consumers online through their website as well as through Amazon.com. The platform has already generated significant interest among large Consumer OEMs, Content aggregators, Telco equipment companies, and Service providers who plan to deploy their own differentiated versions of VuNow based products.

About Verismo Networks

Verismo's VuNow platform transforms the TV set into a powerful multi-media hub with an unbelievable level of choice and ease in accessing digital entertainment. You've never seen your television like this before. The privately held company is based in Mountain View, California with offices in Bangalore, India. For more information, please visit www.verismonetworks.com.

About Sonic Solutions

Sonic Solutions® (NASDAQ: SNIC) is powering the digital media ecosystem through its complete range of Hollywood to Home™ applications, services, and technologies. Sonic's Roxio® products enable consumers to easily manage and enjoy personal digital media content and, through Roxio CinemaNow®, access premium Hollywood entertainment on a broad range of connected devices. A wide array of leading technology firms, professionals, and developers rely on Sonic to bring innovative digital media functionality to next-generation devices and platforms. Sonic Solutions is headquartered in Marin County, California.
[via Engadget HD]