Vudu unveils Holiday Special with $200 deep discount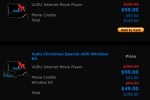 If you've been thinking about a internet streaming media player, here's your chance to take advantage of last minute Christmas discount. Vudu has slashed $150 off of their VUDU media player along with a $50 movie credits, to offer you a limited time only internet streaming package at $149.
There's also a wireless bundle, a plug-n-plug wireless modular that bridges the Vudu device to a home router, with similar deal to compliment the whole suit to enable Vudu playback anywhere in your home with a grand of $198. The Vudu box can play HD movies up to 1080p, which includes its new HDX format and has 250GB of capacity to store as many as 50 movies DVd-grade download content.