Vudu mobile apps now support downloading movies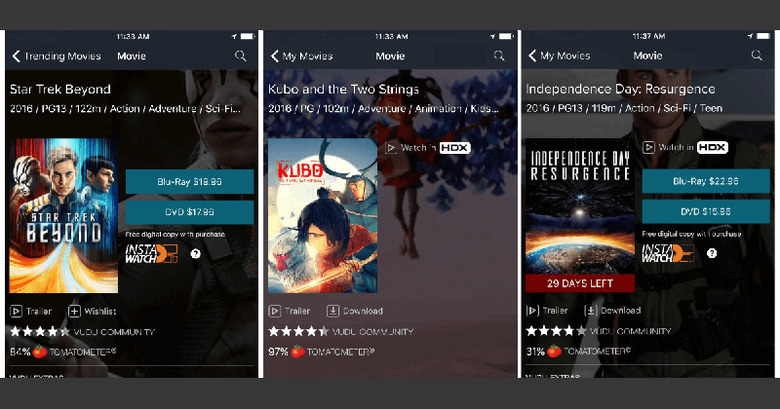 Video streaming is fine and dandy, but until that day when Internet access becomes both omnipresent and super fast, not to mention cheap, there will always be times when you'd opt for a "download once, watch anywhere" kind of deal. Vudu, one of the many video streaming services vying for your attention (and subscription money) has just stepped up its game by allowing exactly for that scenario. Now subscribers can save on money, bandwidth, and headache by downloading movies for offline viewing. Provided you own or rented your copy, of course.
Vudu says the features that are rolling in the new 5.0 version of the app are some of the most requested. Which is a bit ironic given Vudu is, after all, a streaming service. Then again, other major services do offer one form of offline viewing capability or another. Far be it for Vudu to lag behind.
That isn't the only juicy feature in five point oh. For those who prefer a more traditional, physical copy of their favorite films, you won't have to leave Vudu's confines to get them. The mobile app now offers subscribers the ability to actually buy physical Blu-ray and DVD discs from within the app. It's available only in the US, though.
Films today aren't only just about the films themselves. The modern act of watching movies often also involves behind the scenes footage, bonus clips, and director's cut extras. All of these are now supported by Vudu's mobile apps, though the list of titles that will have those extra content are still coming soon.
While all the above new features are available on both Android and iOS, Vudu has reserved one tidbit exclusive to Apple's mobile platform. Now owners of iPhones and iPads can enjoy their content in HDX quality. Even better, they can "throw" those videos to a larger screen via AirPlay, so you can enjoy your movies anywhere you prefer, whether on your tiny phone or on your huge living room TV.
SOURCE: Vudu