VUDU 2.0 UI teased; HD PS3 streaming due later this month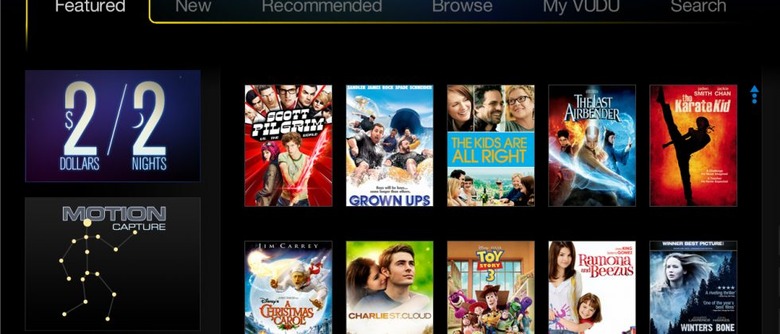 VUDU has outed its upcoming UI refresh, VUDU 2.0, as well as promising HD video streaming for the PS3 later this month. The former is optimized for HDTVs with wide-aspect screens, and uses a tabbed organization system; meanwhile the latter will include HD, HDX and Dolby 5.1 Surround Sound, direct to the console.
VUDU says the 2.0 UI will mean quicker, more intuitive navigation for users; they'll also be able to take advantage of motion controllers they may have lying around, such as the PS3 Move. Support for motion-based PC input devices, such as Gyration's mice, will be added over time.
VUDU 2.0 also introduces more functionality than just media streaming, including a "social feed" which we're guessing will include Twitter and Facebook updates, and "enhanced browse and filter capabilities" for finding shows quicker. There'll also be a new personal recommendations engine.
Since v2.0 is cloud-based, users will automatically get access to the new UI as soon as it's ready; there'll be no downloading or installing required. Screenshots in the gallery below.
Press Release:
VUDU Unveils its Next Generation User Interface

New Design Offers Unparalleled Experience to VUDU Users

November 16, 2010 – San Francisco, CA –VUDU today revealed its new 2.0 user interface, to be delivered before the end of the year to all VUDU-enabled platforms and devices. VUDU 2.0 features an elegant new design optimized for high definition, wide-format TVs and provides many new options to help users discover the best film to fit their mood. Because VUDU is fully cloud-based, users will be able to receive and experience VUDU 2.0 with no downloads, discs or hassles.

While retaining the rich cinematic feel of VUDU's original, highly acclaimed user interface, the new design provides an easy, intuitive structure organized around tabs, allowing users to navigate more quickly with fewer screen changes and fewer clicks. VUDU 2.0 also provides users with several powerful new tools, including personalized recommendations based on viewing history and ratings and enhanced browse and filter capabilities.

A major new feature in 2.0 is support for next-generation motion-based input devices, such as the PS3 Move, mice, and pointer remote controls. This capability will initially be supported on the Sony PlayStation 3 with the Sony Move controller.

"Since our founding, our core mission has been to deliver the best movie watching experience available anywhere, and VUDU 2.0 substantially raises the bar," said Edward Lichty, VUDU's General Manager. "With our sleek new design and killer new discovery tools, we've been able to build on what people have always loved about VUDU and make it even better. Finding and enjoying a movie from our extensive library of HD movies has never been easier or more fun."

Today VUDU also announced availability on Sony PlayStation®3, adding a leader in gaming consoles to existing partnerships with top manufacturers of HDTVs and Blu-ray disc players. VUDU is also available on the PC and Mac via the Boxee platform and on the Boxee Box by D-Link. All VUDU devices and platforms will be updated with VUDU 2.0 before the end of the year.

About VUDU

A leader in digital entertainment, VUDU offers the world's largest selection of HD movies, including thousands of blockbusters, Hollywood classics, and indies available in stunning HDX 1080p with Dolby Digital Plus 5.1 surround sound. Movies are available the same day they are released on DVD or Blu-Ray, and can be rented or purchased without a subscription. VUDU is available on internet-capable HDTVs and Blu-ray disc players from Funai, LG, Mitsubishi, Samsung, SANYO, Sharp, Toshiba and Vizio and next year will be available on HDTVs and Blu-ray disc players from Sony. VUDU is a wholly owned subsidiary of Wal-mart Stores, Inc., and is headquartered in Santa Clara, CA. For more information, visit http://www.vudu.com/.