VTech IS6110 Instant Messenger DECT phone review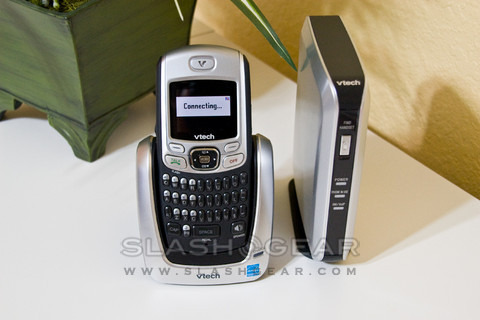 Landline phones have taken a pounding from cellphones these past few years; people expect their handsets to come packed with features, and beyond DECT digital cordless and a built-in answerphone the humble landline couldn't really compete.  Now it's either aim budget or add tech to justify your price-tag: VTech want $99.95 for their IS6110 cordless phone, and to make it worth your while they've thrown in instant messaging, a color screen and a QWERTY keyboard.  SlashGear has been doing more than the usual amount of online chatting to see whether it's enough.
First impressions are reasonable.  The IS6110 comes in two sections, the handset itself complete with charging cradle, and the base-station which plugs into your phoneline and, via USB, into your computer.  Here, then, is the first flaw for VTech: you need to have your PC turned on if you want to use the IM functionality, but we'll come to that later.  The handset looks a little like an older Treo, albeit with a smaller display, and feels pretty plasticky.  Made from hard plastic, the keys are quiet and relatively tactile, and the spacing is fair; they're backlit for messaging in the dark.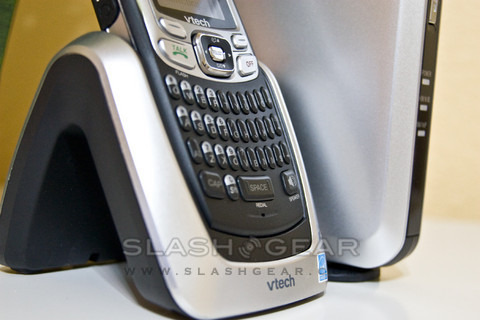 Sadly while VTech looked to Palm for the case design, they seem to have picked Motorola for their GUI.  Navigation is via the D-pad and two soft-keys under the screen, but fonts are blocky and the whole thing feels cramped.  For voice calls there's a directory with space for a mere 50 numbers, Caller ID/Call Waiting and a log that records the last 50 calls.  There's a voicemail indicator too, if your carrier supports it, and should you be lazy or have your hands full there's a standard 2.5mm socket for a wired headset.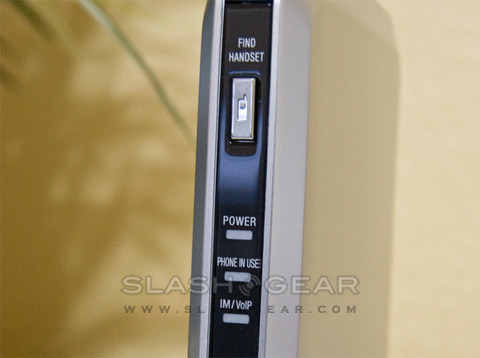 Before you can log into any IM service - and the IS6110 supports MSN Messenger, Windows Live Messenger and AOL Instant Messenger – you'll need to install the VTech phone software.  The company provides a CD with all three of the IM clients and its own app; our install went without a hitch, and from then on the program started up whenever Windows loaded.  Still, it's a pain having to have the PC switched on, plus it assumes your computer is next to a phone socket since the base station requires both.  We'd much prefer to see it plug directly into a spare ethernet port on your router, although we suspect that would push the IS6110's price up significantly.
Once everything is connected and the software running, three homescreen icons on the handset indicate whether you're logged into MSN, Windows Live or AOL.  You can store up to three IM accounts as different "profiles", switching between them from the handset; one frustration is that you can only change the account details on the PC, not from the handset itself.  That's fine if you're the only one using the IS6110, you can have your three different IM accounts under three different profiles, but if there are multiple people in the house wanting to have their own settings you'll have to constantly be changing them on the PC.  Once you start chatting on the IS6110 you can no longer access that messenger on the PC.
Navigating the buddy list is straightforward, and incoming messages from other people are indicated by a flashing face ion.  Hitting the 'Buddies' softkey takes you back to the list and lets you switch between conversations, but that's about it: you can't add, modify or remove contacts or groups, respond to new buddy invitations nor block unwanted contacts, and emoticons aren't sent or displayed.  Offline messages don't work either.  The IS6110 does support voice chat through each of the IM networks, though; we found voice quality about the same as when using a headset on the PC.
VTech suggest you'll get either 7hrs use of the IS6110 as a phone or 3hrs messaging; standby is up to 96hrs.  In our tests we never reached those figures, and they'll be impacted by walls being in-between the handset and the base station.  Only you know whether you can successfully carry out multiple long-term IM conversations on such a compact device; we gave up long before the 3hrs VTech said a full battery would last for, but we've a feeling that teenagers would be more dedicated.
In fact, that's the obvious market for the IS6110: letting your kids chat on IM while you use the computer yourself.  With most young people glued to their cellphones, they'd probably find the VTech system pretty straightforward, albeit basic.  For instance, it supports custom ringtones – in fact you can record your own, either with the handset's microphone or by plugging in the supplied audio cable – but you can't assign them to individual contacts, only to incoming 'voice' or 'VoIP' calls.  If they're not already using an IM app on their cellphone, kids would probably be better served with something like Sony's Mylo communicator, first-gen examples of which have gone for as little as $66 on eBay recently.
As a phone, the VTech IS6110 does what you'd expect.  Call quality is typical for a DECT handset and range is the usual 50m or so, assuming walls.  As a messenger, the IS6110 is inevitably let down by its need to be plugged into a computer.  If you've a single kid who usually ties up the PC chatting to their friends then you might be able to placate them with the VTech, but a house with more people (or simply a person with more IM accounts) will find it all too limiting.  With free IM apps for cellphones freely available, or dedicated messengers such as the Mylo that use WiFi, the IS6110 begins to look, like many landline phones, too little too late.
The VTech IS6110 is available now, priced at $99.95.
[rating: 3.0/5]