VTech IS6110 cordless home phone offers up Instant Messaging services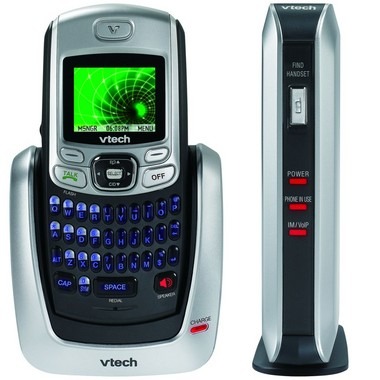 In a move to further the transition from standard home phones to that of phones with similar features as our cell phones VTech has created a new cordless home phone that is capable of signing onto and messaging people using the following services: MSN Messenger, Windows Live Messenger, and AOL Instant Messenger. All you have to do with this phone to get these amazing extra features is connect the base station to your computer. I mean, it has a full QWERTY keypad and can also work with VoIP services, how much more amazing can a home phone get without adding a cellular chipset to it?
It has a large high-res LCD screen on the phone as well as a full keypad which can be used to type your messages. No longer will you have to choose between sitting at the computer all day and using the precious capacity of your mobile's data plan, you can now go outside and enjoy the weather and not miss the message from your friend you are waiting on.
The phone is ENERGY STAR rated, RoHS compliant, and comes with 100% recyclable packaging. It has caller ID, call waiting, recordable ring tones, voicemail indicator, a 50 name/number programmable phonebook/directory, and works with your choice of headsets. This amazing home phone is a mere $99.95 and can be bought online or at Best Buy.
[via VTech]