VTech InnoPad Is A Kid's Tablet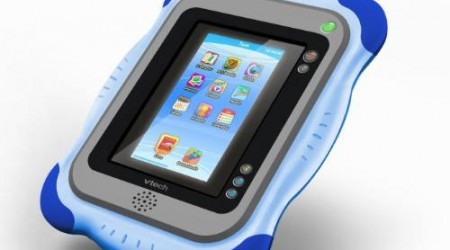 My kids are gadget hounds just like me. This Christmas they didn't want real gadgets, but everything they did want was electronic and interactive for the most part. If your kids like gadgets like tablets, but are too young for the real thing VTech has some cool kid gadgets that might work well for them.
VTech has a new kids tablet called the InnoPad. The little tablet is aimed at kids 4-9 years old and has a lot of software that can be loaded onto the tablet using game cartridges. The InnoPad has a 5-inch LCD that is touch sensitive and has a tilt sensor for controlling games.
The tablet also has USB and a SD card slot along with a headphone jack so they can play quietly. The tablet will play games that are educational and fun. It also has books that kids can read along with and are interactive. The tablet will sell for $79.99 and software titles are $24.99 each.