VSN Mobil V.360 Camera Review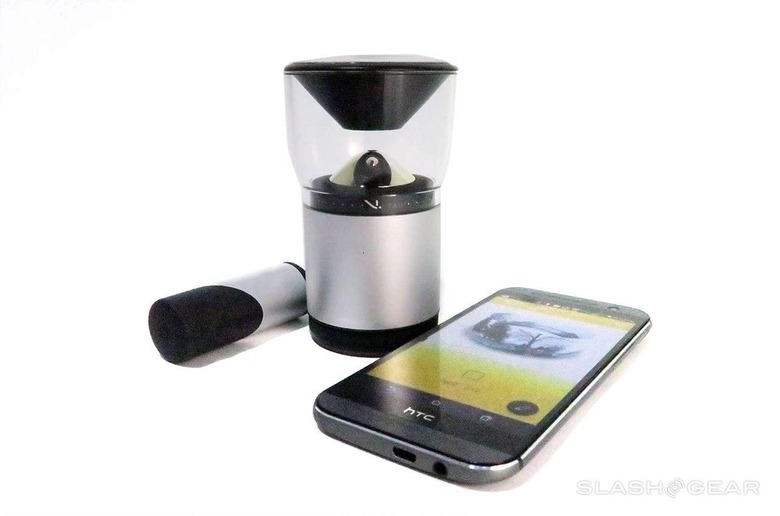 The V.360 camera presents a fairly remarkable media-capturing proposition: the ability to capture panoramic (360-degree) videos or photographs with one tap. No stitching, no multiple-shot photography necessary. This system uses a mirror, instead, as well as a 4K/16 megapixel image sensor. You're using a fixed f/3.0 aperture here and you've got the ability to capture up to 6480 x 1080 HD video at 30FPS or up to 7-megapixel photos (that's 6480 x 1080 as well). What we're doing in this initial review is checking image and video quality – we'll be getting more hardcore in the near future.
Apps on both Android and iOS provide a rather large space for this device to perform in. Chances are you've got one or the other. The media you get from the device comes flat – you'll see what I mean by flat soon – but you can also view it as it was meant to be viewed in-app.
You can view your captured media OR live content in your iOS or Android app.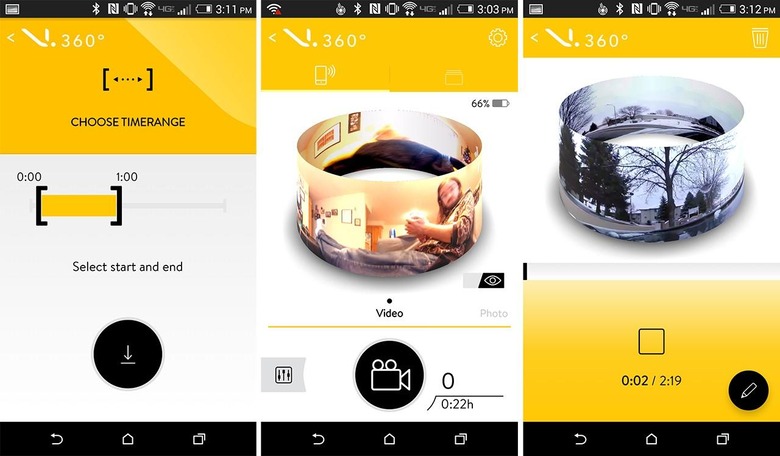 This app also allows you to crop video in a very basic way, and to see your content as a tube or as a scroll-able image. To view this scroll-able image, you'll have only to turn your phone or tablet on its side, to landscape mode.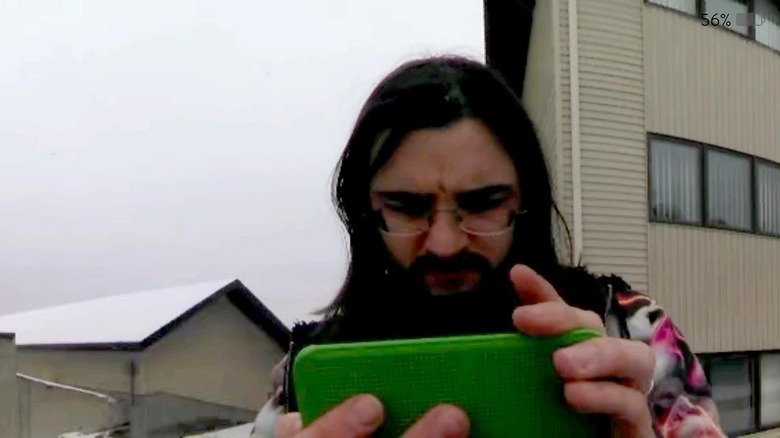 Above you'll see what I see when the camera is pointed – live – at me. This is a screenshot from my HTC One, not a photo taken with the V.360. Pulling left or right on this screen in the app on the phone shows any point in the 360-degrees of capture from the camera.
You can also view your captured media in a desktop player for OS X or Windows. All of these applications are, of course, free.
The viewer app for your desktop is just that – made for viewing media, not necessarily doing much with said media besides that. You can view files from your desktop or through the web, viewable by pasting a URL in a slot in the app's menu.
The video output without this viewer is two 180-degree views, one on top of the other.
Have a peek at our driving video here – and take note that this device doesn't do a whole lot in the way of muffling the sound of wind.
Next you'll see a selection of photos taken with the camera.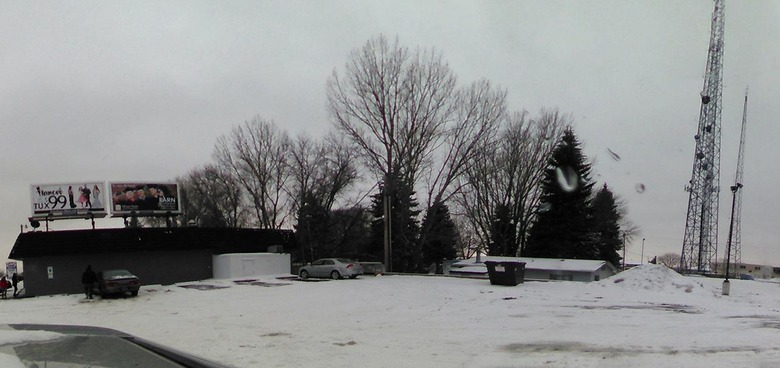 Above you'll see a photo taken with the device on top of my car. This will be the best-case scenario for the camera as it's being held still. The above photo is cut from the full scene captured by the device, expanded below:

The first several photos you see here are going to be a bit dim. These photos weren't taken on a bright, sunny day, they were taken on a bit of a gloomy, winter day. Because of this, the camera is going to need to shine with auto-adjustments in brightness and contrast.

Unfortunately, the V.360 isn't particularly good at making a dim day look fabulously appealing.

Taking photos sideways – not just the recommended super-flat – results in some interesting shots. Not that you'd want to go out of your way to shoot like this, but if you did, here's what you'd get.

Next you'll see one of the cooler applications of the photos you'll be taking with the v.360 – Google Maps "Street View". Of course this isn't a photo taken from the street, and it's better categorized in Google's Photospheres collection – Views, it's just called now.
To create an embeddable Panorama or Photosphere like we've got above, you'll have only to follow Google's Instructions. You'll be submitting said photo to Google's collection of shots for Google Maps, too.
NOTE: This is just the beginning. Once it gets a bit nicer outside we'll be taking additional shots to show you how this device performs through the seasons. Let us know what you'd like us to shoot!
The camera comes with a remote control unit that runs on two AAA batteries. You'll be able to use this controller to turn the camera on and off, take a photo, and take a video.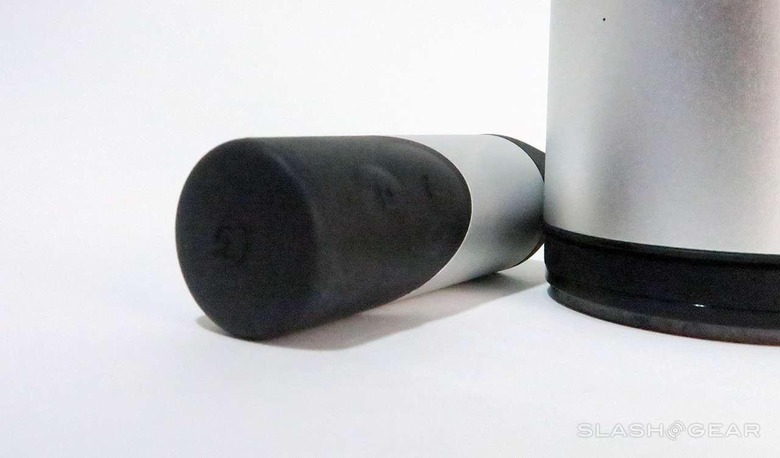 On top of the camera you'll find a bubble level – a tried and true super-simple solution for you to use to stay flat.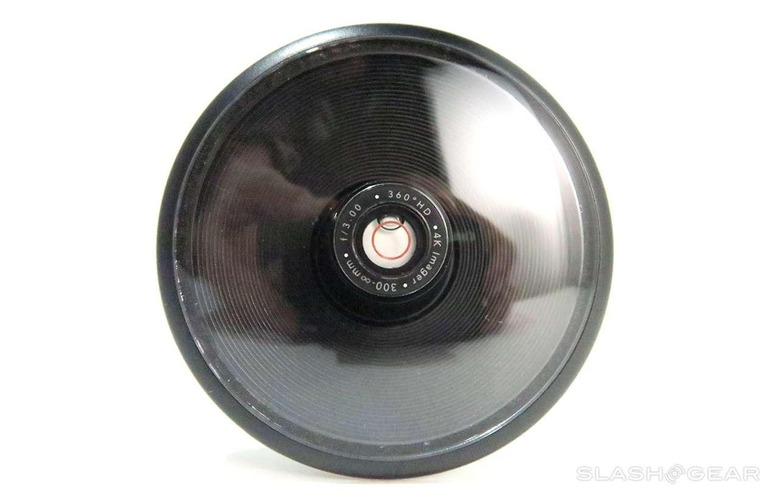 Inside the bottom of the camera you'll find a single removable battery. Charging this device and transferring data requires that you use an (included) USB 3.0 cord.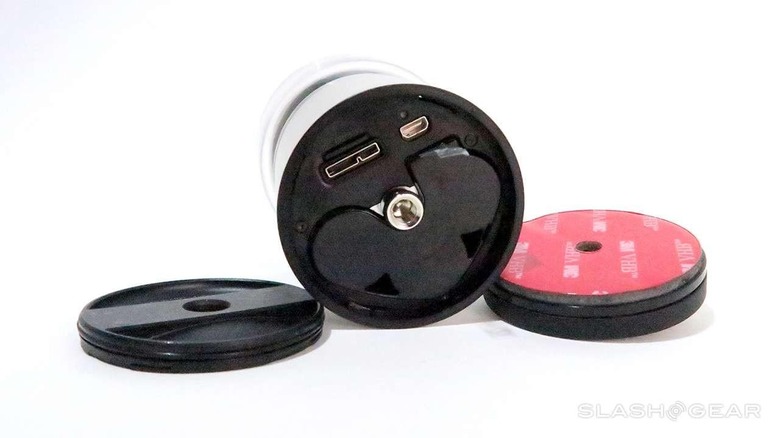 You'll also need to make use of the microSD card slot for data storage – this also allowing you to transfer photos and video using your own microSD transfer device, if you wish. You can also output using the device's build-in HDMI port.
The VSN Mobil V.360 Camera will cost you a cool $399 USD should you choose to pick one up right this minute. This camera includes the Bluetooth remote control you see above, a microfiber carrying case, the aforementioned battery (2160 mAh large), and a USB 3.0 cable. You'll also get a wall charger to plug your USB 3.0 cord into, a waterproof battery door, silicone sleeve, adhesive dash mount, and a GoPro mount adapter.
Is this device the way of the future, or is it just a gimmick? For now, we can safely say it's the start of something really, really great. The ability to capture a full view – more than the human eye can take in all at once – that's magical.
And that's what we like. Technology that creates an environment in which what we're perceiving seems so far out, it's magic.