Volvo XC90 T8 Plug-in Hybrid gets power from other cars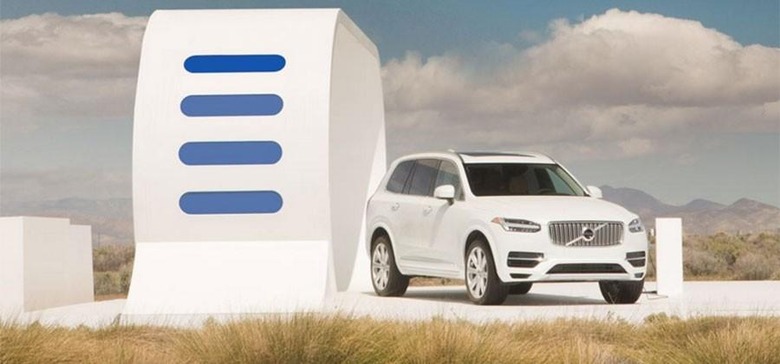 Volvo has been making safe cars for decades and one of its latest automobiles is the XC90 T8 Twin Engine Hybrid and as you expect with a hybrid car it can get power from the gas motor or the electric system. Combined the gas and electric motors inside the XC90 T8 produce 400hp making this one of the most powerful Volvo cars ever built. Volvo has devised a very interesting system that allows this plug-in hybrid to get power from other cars.
This alternative power system works by placing tubes of water under a platform on the highway that other cars drive over. As the cars drive over the water-filled tubes, the motion compresses the water in the tubes and a special system attached to those tubes turns that hydraulic motion into electricity. The XC90 T8 can then plug into the power system and charge its hybrid batteries using the electricity generated.
This system is being shown off with the T8 Hybrid, but it should work with any EV that can plug into the system. Like most cars with an electric motor, the XC90 T8 plug-in hybrid has lots of torque is on tap with the system making a total of 472 lb-ft combined. The gas engine used in the car is a direct-injected turbo & supercharged 2.0L four cylinder. The power goes to the road via an AWD system
Volvo doesn't offer any indication of performance for the XC90 T8 plug-in hybrid, but the car should perform well with that much horsepower and torque on tap. The base T8 Plug-in Hybrid starts at $68,100, the R-design starts at $70,000, and the high-end Inscription version starts at $71,600. The car promises 54 MPGe on the highway and 53 MPGe in the city.