Volvo uses Google Cardboard to advertise the XC90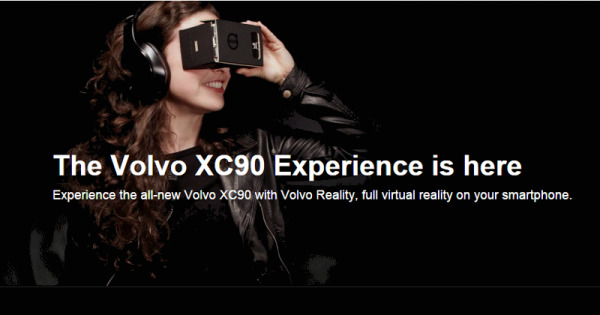 What other options do you have if you can't take your would-be car for a test run? Why, virtual reality, of course! Volvo is trying to play up the tech savvy-ness of its XC90 by creating what it calls Volvo Reality, a way for interested buyers, or even just those curious, to experience the new luxury SUV without leaving their homes or even their seats. All they need is a smartphone and the makeshift Google Cardboard virtual reality headset, but it's really OK even if you don't have one.
Cardboard is almost like Google's tongue in cheek jab at the growing popularity of VR headsets, more recently popularized by Oculus Rift. Although Google doesn't yet have a VR device of its own, since its eyes are set on Google Glass primarily, it came up with a way to emulate that experience with a DIY alternative that you can make almost totally from cardboard. Of course, you'll still need to hunt down some specialized parts, but other than those, all you need will be a smartphone and the Cardboard app to give you a virtual reality experience.
Volvo is now banking on that experience in order to advertise its seven-seater. It describes Volvo Reality as the first VR test drive on a smartphone ever made available. Of course, it doesn't even come close to the real thing, since you don't really wear a cardboard box on your head when driving, nor would you drive the XC90 hands-free. But you have to admit, this could be one fancy marketing campaign. And despite the Google Cardboard association, Volvo says you actually don't need it to live experience. All you really need is a smartphone.
The Volvo XC90 is outfitted with a variety of tech safety features and the car maker is advertising it as the most comprehensive and tech-advanced car on the market in that category. This includes run-off road protection, auto brake systems, and a tablet style touchscreen center console.
Volvo Reality launches November 18, but the Android app is now available from Google Play Store. The iOS version, on the other hand, will land on the App Store on the 18th as well.
SOURCE: Volvo