Volvo Trucks Volvo FL Electric semi debuts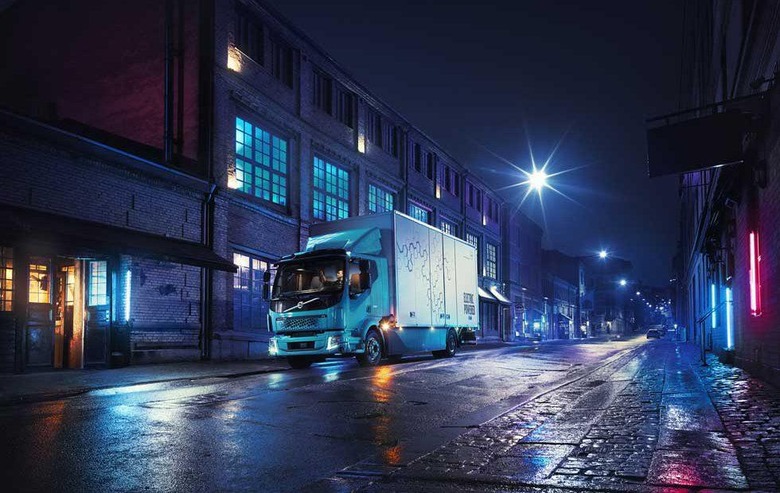 Volvo Trucks has announced its own electric semi to battle the Tesla Semi in Europe. The new Volvo truck is called the Volvo FL Electric and it is aimed specifically at urban distribution, refuse operations and other applications. Volvo will begin to produce and sell the truck in Europe next year.
Volvo Trucks says that the EV will mean better air quality and less noise in the city. The quieter operation of the trucks means that more work can be done at night without disturbing residents. The trucks can also be used indoors thanks to no emissions.
Volvo is aiming the FL Electric at applications needing a GVW of 16 tons. The powertrain is a 185 kW electric motor with a max power of 130 kW continuous. It will use a two-speed transmission, propeller shaft, and rear axle. The max torque for the motor is 425 Nm.
The truck will use 2-6 lithium-ion battery packs totaling 100-300 kWh of power giving a range of up to 300 km. Charging will be done via the mains grid at 22 kW or DC fast charge using CCS/Combo2 for up to 150 kW. Recharge time is 1.2 hours with DC charging or up to 10 hours with AC charging.
Volvo says that the first two Volvo FL Electric trucks will be operated by refuse collection and recycling company Renova and haulage firm TGM. The 300km range is about 186 miles, Tesla claims about 300 miles of range.
SOURCE: Volvo Trucks