Volvo self-driving car tests use road-embedded magnets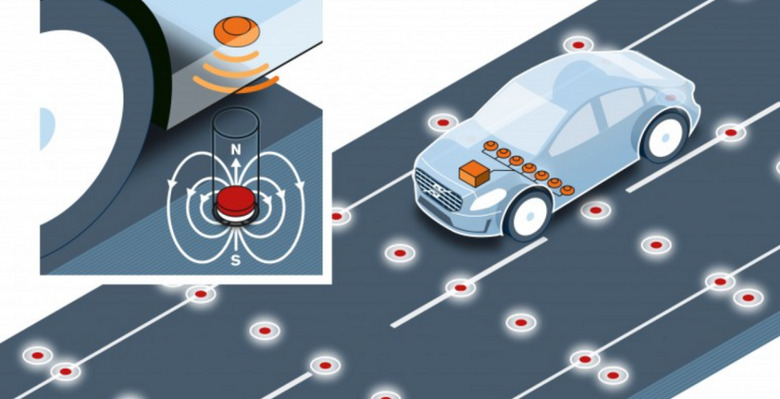 Furthering the auto maker's work on self-driving technology, Volvo has recently wrapped up a project near Gothenburg in Sweden, where the company has been carrying out a separate self-driving project. In this latest one, magnets were embedded in a test strip of road for use with a sensor-laden vehicle.
The self-driving car has magnet sensors embedded that allow it to detect the position of magnets embedded in the road. Using these magnets and sensors, the car can then keep track of its position within the lane and beyond. The magnets measure in at 40mm x 15mm, and are buried 200mm below the road's surface.
The magnets effectively serve as a form of positioning technology that isn't given to environmental whims, such as the lack of adequate GPS signal in some areas and tunnels. Reducing the width of current road lanes and helping avoid objects that are buried in snow are cited as two benefits to the technology.
Volvo's Preventive Safety Leader Jonas Ekmark said: "Accurate, reliable positioning is a necessary prerequisite for a self-driving car ... Our experience so far is that ferrite magnets are an efficient, reliable and relatively cheap solution, both when it comes to the infrastructure and on-board sensor technology. The next step is to conduct tests in real-life traffic."
SOURCE: GizMag