Volvo launches two-hour in-car package delivery in Stockholm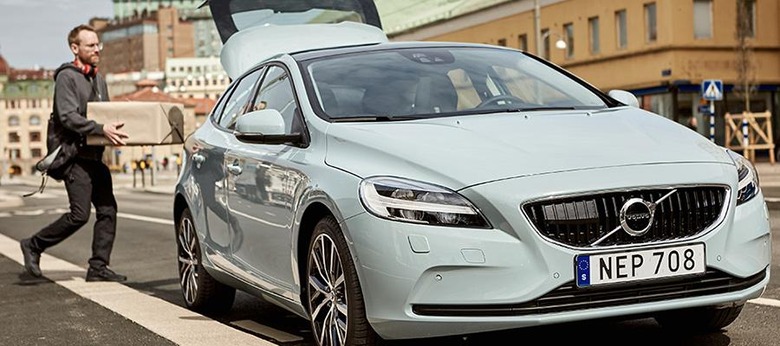 Volvo is launching a new delivery service that will bring deliveries directly to a consumer's Volvo within two hours, the company has announced. Called 'In-Car Delivery,' it's exactly what it sounds like — a delivery service that deposits the packages directly into your car, making it more convenient to receive items while you're at work or otherwise away from home.
This isn't the first introduction of Volvo's In-Car Delivery service, but rather represents an expansion of it — Volvo first introduced it on Black Friday last year in conjunction with major retailers in Sweden.
This time around, Volvo has partnered with 'urbers,' a delivery service in the nation that provides two-hour deliveries — in this case, the urbers deliveries will be available to Volvo customers in Stockholm for a pilot run this year. Volvo says it wants to expand its urb-it option to "several European cities" later on this year, and slowly expand that to cover more than 200 cities by the year 2025.
The items are placed within the car, but the driver doesn't have to be present or leave the car unlocked — rather, the service utilizes Volvo's digital key technology (where applicable), which allows the driver to grant someone one-time access to their vehicle.
Said Volvo Car Group's SVP of Marketing Sales and Service Bjorn Annwall:
We understand the value of the In-car Delivery service we have developed. We've all had phone calls at work from delivery people trying to deliver packages to our homes that need to be signed for when there is no one home. With our In-car Delivery service we effectively turn your car into a delivery location and assign a one-time digital key to the delivery person, effectively eliminating delivery failure.
SOURCE: Volvo