Volkswagen App My Ride Contest Asks Developers To Create Apps For Vehicle Systems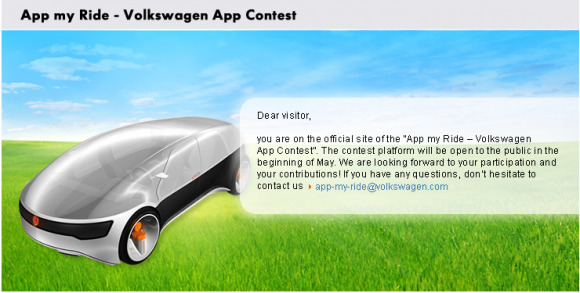 While other car companies may be focusing on the more practical ideas of in-car systems, like making applications for the phone that sync with your vehicle, it looks like the German automobile manufacturer Volkswagen just wants to cut out the middle man. The company is set to kick-off what they're calling the "App my Ride — Volkswagen App Contest," and they're hoping that developers and programmers of all sorts try their hand.
Volkswagen wants to open their arms and invite programmers, developers, and anyone else in between (whether you're of the "professional" variety or not), to help develop the latest and greatest in the company's in-car entertainment and information systems. The Open Innovation Contest begins on May 3rd, and it's designed for those interested to work with Volkwagen to create the best applications available. Those apps will then be judged by a "panel of experts," before a winner is crowned, and they get to win a bunch of goodies. Oh, and if you're lucky enough, it may get featured in a future Volkswagen model, too.
Volkswagen wants the international developer community to come forth and help them create the next best in-car system, and they believe that this methodology is the best way to go about getting that result. If you're interested, you should have a general idea of what you'd want to develop, know what you want the graphic design of the User Interface to look like, and have an ability to program in Adobe's Flash/Flex systems. And obviously, Volkwagen wants to make sure that whatever app/system of apps you create, that it's designed for the driver, the passenger, and others in the car. So, if it's too complicated for a driver to use while they're driving, it's probably not a good idea. The website will have more information, but it won't officially launch until May 3rd.
[via Volkswagen]