Volkswagen got caught emissions cheating: What you need to know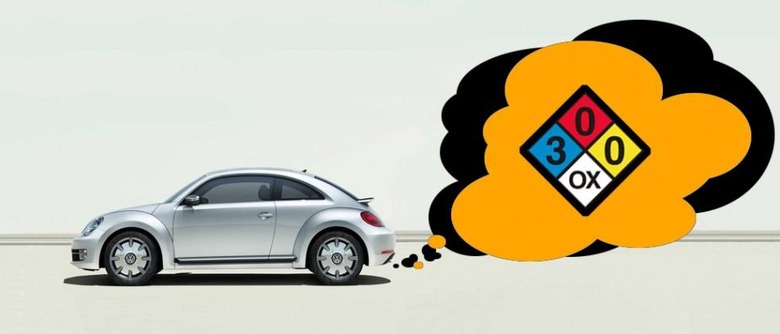 Volkswagen's attempts to cheat the Clean Air Act in the US have proved shocking to diesel drivers thinking they were helping save the planet, but things are going to get even more complicated. The news that independent testing had spotted nitrogen oxide levels as much as 35x higher than the Environmental Protection Agency (EPA) permits from select VW and Audi cars, and that the discrepancy came down to some testing trickery, has left the German behemoth in hot water.
What cars are affected?
One specific type of Volkswagen engine is at fault, but due to platform sharing it's found in a number of different VW and Audi cars dating between 2009 and 2015.
The 2.0-liter, four-cylinder turbocharged diesel has been used in the Jetta, Golf, Passat, and Beetle, as well as Audi's A3.
What's the problem?
Emissions targets for diesel engines are tough, and so to undercut the limit for permissible nitrogen oxides (NOx) in the exhaust gases, Volkswagen fitted a "defeat device" that effectively cheated on the test.
By figuring out when the car in question was undergoing emissions testing, changes to the engine management system tweaked the settings so that the EPA rules were met. Under normal driving conditions, however, nitrogen oxide emissions were far, far greater.
How much greater? According to the International Council on Clean Transportation (ICCT), the group which spotted the issue in the first place, a VW Passat TDI they tested emitted 5 to 20-times the NOx gases of the standard, while a VW Jetta emitted 15 to 35-times.
So was all this a mistake?
Definitely not. Over the weekend, VW chief Dr. Martin Winterkorn issued a public apology for "detected manipulations that violate American environmental standards" by the automaker.
"The Board of Management at Volkswagen AG takes these findings very seriously. I personally am deeply sorry that we have broken the trust of our customers and the public. We will cooperate fully with the responsible agencies, with transparency and urgency, to clearly, openly, and completely establish all of the facts of this case. Volkswagen has ordered an external investigation of this matter" Dr./ Martin Winterkorn, CEO, Volkswagen AG
While the EPA targets are tough, they're not impossible to meet. The ICCT tested a BMW X5 diesel alongside its VW sample cars, and found that for the most part the SUV came in under the standard NOx emissions.
I'm a VW owner… what happens next?
In the short-term, the advice is to sit tight and wait to hear from VW. The company insists that there's no risk to drivers or safety issues involved, and will be contacting everybody when it has a fix decided on.
"We want to assure customers and owners of these models that their automobiles are safe to drive, and we are working to develop a remedy that meets emissions standards and satisfies our loyal and valued customers. Owners of these vehicles do not need to take any action at this time" VW
The longer-term details of what, exactly, that fix might be and how this whole saga could affect resale values is unclear, however. The best-case scenario for VW is that a software update will be sufficient to patch the issue, though that could come with a compromise on either performance, or economy, or even both for owners.
It's possible, however, that new software alone won't be enough, and Volkswagen will have to make hardware changes too. Exactly what that might involve to bring emissions under the legal limits isn't certain, but it's going to be expensive – for VW – and might still come with those same compromises as software by itself.
I was about to buy - or sell - a VW TDI… should I?
If you were about to buy a car with the 2.0 liter TDI engine, you now won't be able to: Volkswagen has pulled affected models from sale, both new and pre-owned. It's unlikely that they'll return to forecourts until the company decides on its fix.
Those who were thinking of selling their Volkswagen or Audi, or who are considering it now as a result of the controversy, may find themselves in a tricky situation. For the moment, the EPA says that "the cars remain legal to drive and resell," which means that – despite the fact that the vehicles aren't actually meeting Clean Air Act standards – private buyers should still be able to register one of the affected cars in their name.
All the same, the confusion involved – and the uncertainty over what repair Volkswagen has in the pipeline – is likely to see second-hand prices tumble.
Is VW going to be fined?
The Environmental Protection Agency hasn't said what will happen to Volkswagen as a result of the emissions evasions, but it almost certainly won't let the automaker get away with it.
"VW may be liable for civil penalties and injunctive relief for the violations alleged," it said in a statement last week.
That could get costly. According to the EPA, violators of the Clean Air Act "are subject to civil penalties up to $37,500 per noncompliant vehicle or engine, $3,750 per tampering event or sale of defeat device, and $37,500 per day for reporting and recordkeeping violations."
That's not taking into account the potential for class action suits filed by owners, and of course the inevitable hit on its stock value as investors recoil.