Volkswagen E-Golf Touch Shows Off Upcoming VW Infotainment Upgrades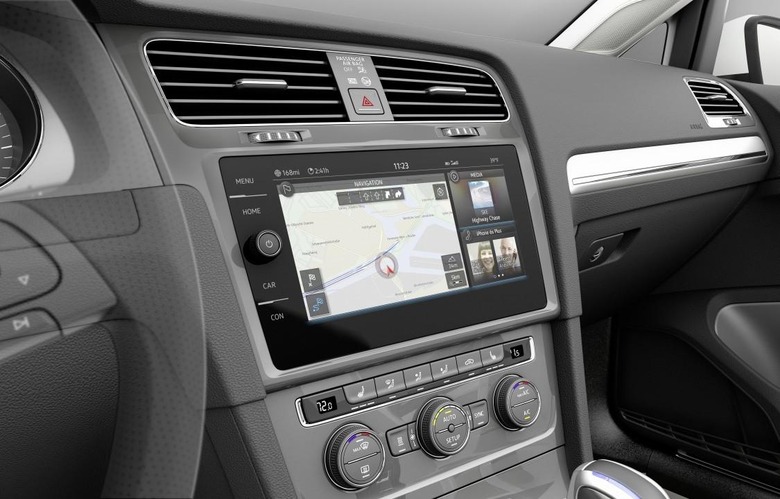 Volkswagen has been gradually improving the quality of the infotainment systems offered in its vehicles over the course of the past two years, even going so far as to introduce a prototype gesture control interface at least year's CES for the Golf R – a design that has yet to make it into production. For 2016, VW is once again back at CES promoting the gesture control concept, but it's doing so on the strength of an entirely new system installed in a concept car based on its current battery-powered hatchback and dubbed the 'e-Golf Touch.'
Taking center stage inside the Volkswagen e-Golf Touch is the latest-generation 'Modular Infotainment Toolkit,' which takes the form of a 9.2-inch LCD display offering a resolution of 1280x640 pixels. A tile-based configurable home screen can be customized for easy access to your favorite vehicle features and apps, and in addition to the ability to interact with the screen using hand gestures, it also comes with a new implementation of the brand's voice control system – one which can be activated use a key phrase rather than requiring the driver to push a button on the steering wheel.
Other goodies stuffed into the e-Golf Touch include inductive charging for mobile devices (for both front and back seat passengers), a system that amplifies driver and front passenger speech via the rear speakers, and the ability to save your preferred vehicle settings to the could via the Volkswagen Car-Net ID system. The latter promises to port your profile to any other Volkswagen you may happen to drive, providing it has access to Car-Net. We're not sure how many individuals are hot-swapping from one VW to the next on a regular basis, but in any case, the feature is there.
Other, more practical uses of the e-Golf Touch's connectivity features include Media Control 3.0, which links tablets to the car's infotainment and navigation features to allow for a degree of control on each side (rear seat riders can input addresses, front seat occupants can send media to the tablet, for example), and of course an in-car WiFi hot spot, Android Auto, and Apple CarPlay. These are along side Car-Net's suite of mobile device functionality and integration, as well as an improved notifications system that facilitates interaction with the driver's social media accounts – at low speeds, of course.
While some of these features are pegged to debut in the European market as early as this spring (including the new voice command system and Media Control 3.0), there's no firm date for an American introduction. Typically, Volkswagen fans in the U.S. have to wait between 12 and 18 months in order to benefit from updates and technology that's initially doled out to European customers. It's also unclear as to whether Volkswagen will roll out the e-Golf Touch's features across its entire product line, or pick and choose which models will have access to the new functionality.