Volkswagen Design Vision GTI concept unveiled at Worthersee festival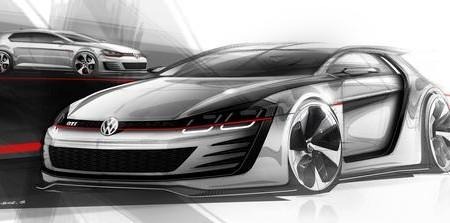 In Reifnitz, Austria, tens of thousands of Volkswagen GTI enthusiasts converge for a few days at the Worthersee festival to get their automotive fix. During the event, VW shows off a concept vehicle, with this year's being a concept race car called the Design Vision GTI, a sleek vehicle inspired by the 7th-gen GTI. We've got a gallery available after the jump.
According to the announcement, the Design Vision GTI was made by Volkswagen's Head of Design Klaus Bischoff and his team, which gave the vehicle a boost inside and out, tossing 20-inch wheels and an autonomous body into the mix. Power is substantially increased from the standard Performance model's 230 horsepower to 503 horsepower/6500rpm, giving a 186mph top speed.
Such power enables the Design Vision GTI to hit 62mph in a reported 3.9-seconds, a speed that demands carbon-ceramic brake discs behind wheels specially designed with vents to let the brake gas dissipate. There's a DSG dual-clutch transmission and 3.0-liter V6 TSI direct-injection engine, a step up from the standard 2.0-liter four cylinder offering.
Inside, drivers find a design meant to make driving a simple task, allowing hands to stay on the wheel as often as possible. There are paddle shifters, center console controls, and three drive modes: Track, Sport, and Street. In addition, there is also an electric kill switch and a button that triggers a fire extinguisher. Finally, in the center console the designers tossed in a real-time updated display with a map of the racing track with other racers' positions.
[via Volkswagen]