Volkswagen BUDD-e Concept Is A Glimpse At Tomorrow's Electric, Connected Car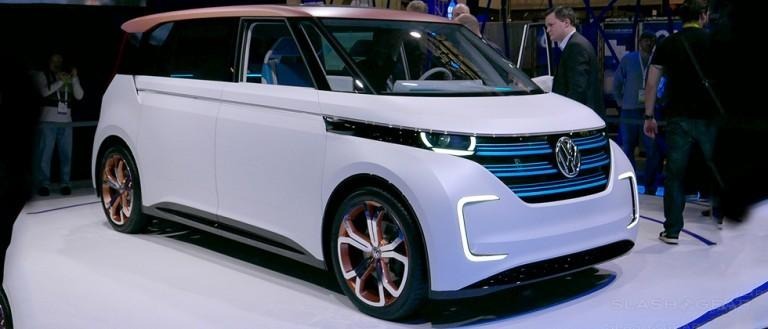 The Volkswagen BUDD-e Concept overachieves in terms of wowing CES attendees with a vast range of cutting edge technologies and features. The small, crossover-like van – which will almost certainly never be built – is intended to showcase both the brand's upcoming electric vehicle plans, as well as its forays into comprehensive connectivity, the Internet of Things, and next-generation human-machine interface development.
Future-Tense Electric Strategy
Volkswagen is one of the few automakers currently offering a fully-electric automobile for sale in the United States, but BUDD-e takes things a step further by imagining what the state of the art will look like by the end of the decade. It's the first Volkswagen to ride on the Modular Electric Platform (MEB) that the company will use as the basis for all upcoming battery-powered vehicles, allowing for optimal placement of batteries, motors, and cooling systems in order to enhance driving dynamics and improve passenger room.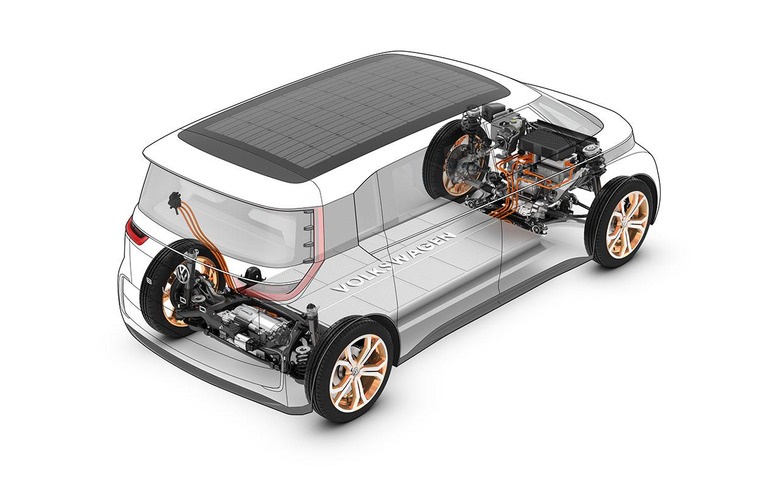 In BUDD-e, a pair of electric motors (one for each axle) provide the van's motivation up to a top speed of 93-mph, while its 101 kWh battery design is good for an estimated 373 miles of driving on a single charge.
Most intriguing is Volkswagen's gambit that by 2019 it will be possible to charge 80 percent of BUDD-e's battery pack within the space of 15 minutes – a claim that's so far unsupported by existing technology – using either corded or inductive energy sources.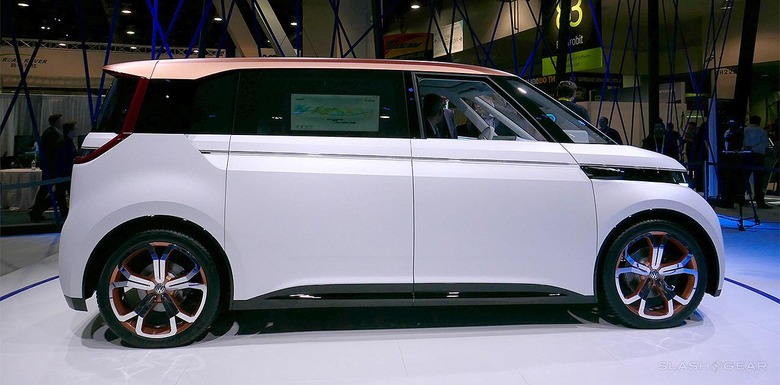 UPDATE: According to VW, the BUDD-e range of up to 373 miles per charge, is based on the New European Driving Cycle (NEDC), while Dr. Diess mentioned this week at CES 2016 that the range of this vehicle was 233 miles per charge, which is in turn based on an EPA drive cycle (which is traditionally more rigorous, thus resulting in lower range estimates).
One Display To Rule Them All
Hand-in-hand with the Volkswagen BUDD-e's electric drivetrain comes a comprehensive – or perhaps overwhelming – suite of connectivity features and next-generation interfaces intended to link driver and passengers not just to the van's various features but also to the world surrounding it. Up front, VW has merged the center stack and driver information screen into a single unit that curves around the left seat passenger, creating what it terms an 'information hub' that includes a 3D navigation panel as part of a programmable instrument cluster called the 'Active Info Display,' and a head unit that tackles infotainment duties.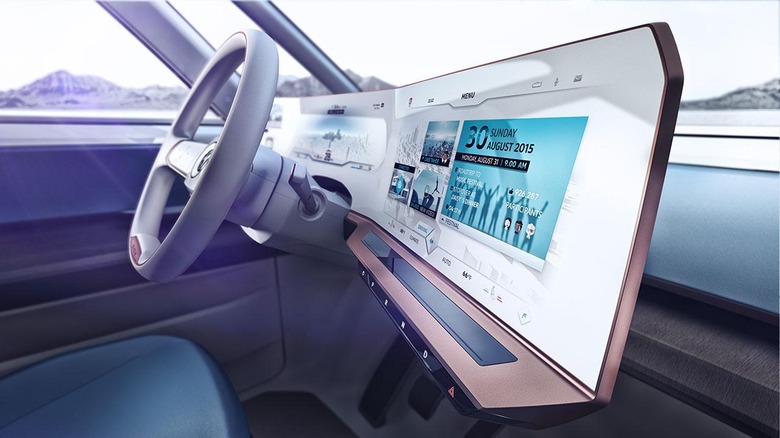 The Active Info Display is broken down into three sections: Drive, Control, and Consume. Drive offers up nav info and instructions, while Control provides vehicle info and trip data. Consume is where all of the other distractions live, including weather readouts, entertainment selections, and communications (messages and phone information). The Active Info Display can be further organized around two primary layouts, with Driving mode oriented towards the pilot and Travel mode shifting information to the center so that passengers can more easily interact with it.
Hands-Off, Hands-On
Speaking of interaction, Volkswagen has expanded the various methods BUDD-e occupants can control various aspects of the vehicle's functionality. Gesture controls, for example, can be used both inside and outside the van, such as when opening its doors (there are actually no traditional handles to be found) whether you are trying to access or escape its cabin. There are also no buttons to be found on the vehicle's steering wheel, replaced instead with a series of capacitive touch panels that offer haptic feedback across its entire surface. Technologies such as this make it clear that BUDD-e is a pure concept, as in the real world it's difficult to use touch-based systems without removing your eyes from the road and risking an accident.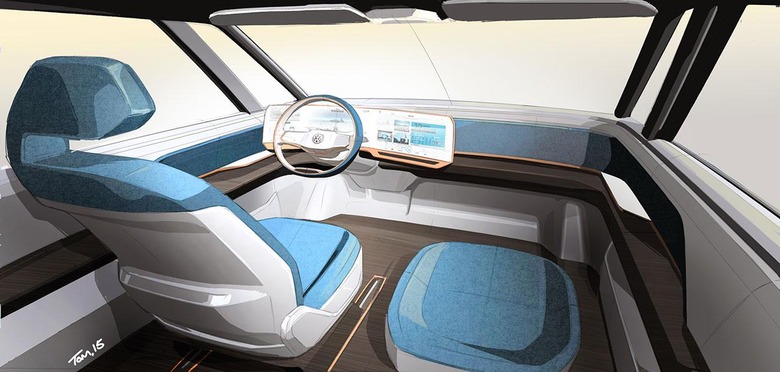 If you don't feel like moving your hands and fingers at all, then Volkswagen still has you covered, as BUDD-e claims exceptionally granular natural speech recognition. Not only can occupants say things like 'it's too cold, turn up the heat a bit,' but the van will be able to pinpoint which passenger made the request and adjust their individual climate settings accordingly.
Hyper-Connective
The most ambitious aspect of the Volkswagen BUDD-e's feature set is its determination to remain connected to everything in its owner's life, at all times. The scope of VW's plans to attach the van to the 'Internet of Things' is immense. Not only does the brand plan to link the vehicle to Connected Home features that would be able to remotely control energy use savings as well as transmit video images of anyone who rang the doorbell directly to the car (using Mirror-Link and Home-Net Viewer technologies), but it also wants to inventory the objects in your life so you never accidentally forget to bring them along, ever again.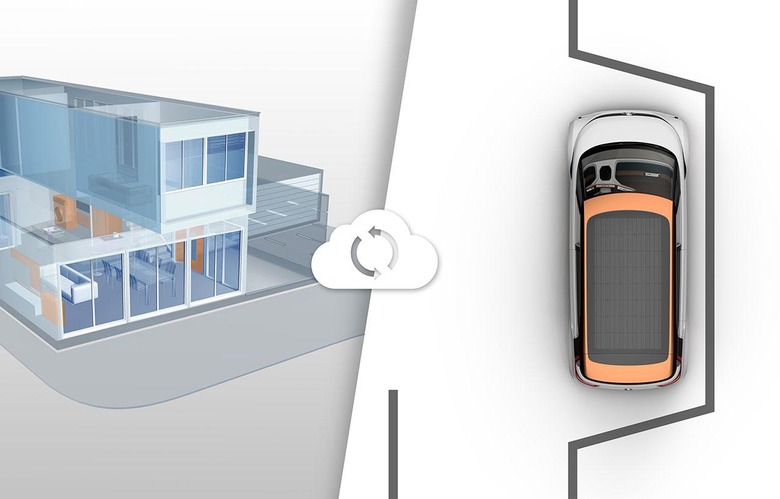 Specifically, the Home-Net technology incorporated into BUDD-e would make use of tracking transmitters attached to items such as umbrellas and briefcases, making it possible for the van to know where they are at all times. This enables the car to remind you to bring them with you, especially if the vehicle knows it's going to rain, or that you have a meeting scheduled. Volkswagen even foresees a time when BUDD-e could be used as a sort of 'drop box' where packages can be ordered by owners and then placed inside the automobile by the delivery driver using a digital key linked to the purchase – a service that would extend to maintenance items such as windshield wipers being ordered automatically by the vehicle.
VW's Road Ahead?
The Volkswagen BUDD-e Concept is packed to the brim with ideas. It's unlikely that all of these features will eventually find their way into a production vehicle, but the key tenets of the concept car, including its generous battery range, quick-charging capability, and comprehensive connectivity emphasis, all point towards the direction VW is heading in the development of future products.