Volkswagen Atlas Cross Sport Prototype first drive: Changes are only skin deep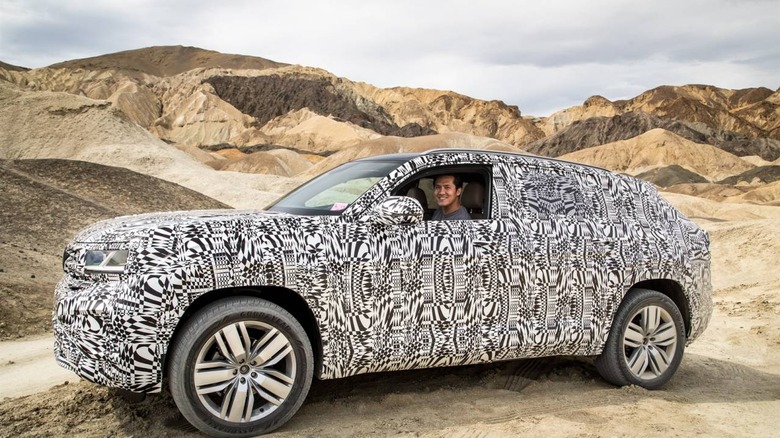 Whatever the name night suggest, you can think of the new Volkswagen Atlas Cross Sport as a five-seat alternative to the Atlas. Conceived primarily for the U.S. and Canadian market, it's an example of VW's regional divisions knowing what works for their audience, and the automaker's platforms being flexible enough to drive that understanding right onto dealership forecourts. As I found from behind the wheel of an Atlas Cross Sport prototype, that flexibility comes with pros and cons.
"I can proudly say the Atlas Cross Sport is born and raised in the North American region," Michael Lovati, Vice President, G3 NAR, VW Group of America explained to me. "Actually, the Atlas Cross Sport is the fastest car we've penciled and got approved in the entire history of our region. It only took us about three months to concept it, get it approved, and then start working on the entire project."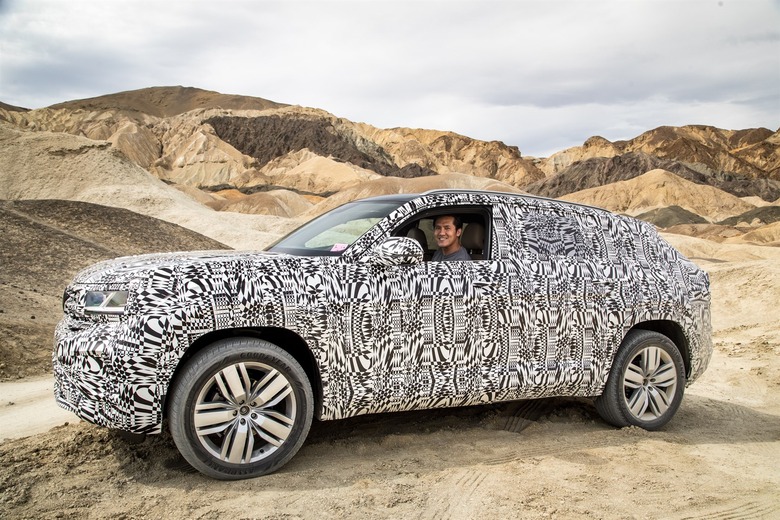 Volkswagen did it by starting with a proven platform: the Atlas full-size SUV with seven seats. Both vehicles share the same basic underpinnings, which means that even though the Cross Sport is 5.7-inches shorter than the Atlas, it has the same 117.3-inch wheelbase as the seven-seat version. That translates to a frankly incredible amount of room for both passengers and cargo.
The MQB platform has been given a more dramatic, coupe-like design, much in the way that the Audi Q8 is a sportier and more car-like version of the larger, seven-seat Q7. "We've eliminated the third seat row so you have tremendous amounts of cargo space in the back," Lovati says. "But because it's the same wheelbase with the same underpinnings as the larger Atlas, you get the added benefit of functionality that you get in the seven-seater but without the third seat."
It's hard to argue that the new model doesn't make a lot of sense. Volkswagen sold more than 27,000 Atlas SUVs in the six months ending 2017. Sales also climbed to 59,677 units in 2018, and 36,726 by midyear 2019. Indeed, VW sold 7,424 Atlas SUVs in June of this year alone, netting a 34% increase compared to the same period last year. In short, the success of the Atlas and the Tiguan accounted for 53% of total sales in June 2019. It didn't take a huge leap to conclude that buyers still want SUVs but, more specifically, younger buyers want something smaller and sportier-looking.
While the Tiguan is an easy sell with its comfortable seven-seat interior, there's still an audience for an even roomier – and dare I say sexier – alternative to both the Atlas and Tiguan. The new Cross Sport is intended to solidify Volkswagen's presence in the North American SUV market not to mention take on stalwarts like the Jeep Grand Cherokee, Ford Edge, Toyota 4Runner, and Nissan Murano, current segment leaders in the five-seat SUV category.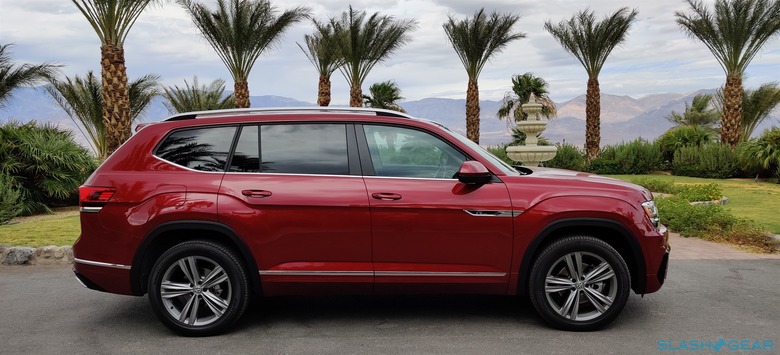 "The regular Atlas is aimed at customers who need exceptional amounts of space and seven seats, whereas the Cross Sport is for those who want a stylish SUV that can take them anywhere and carry all their stuff," added Lovati. "We are the only German five-seat SUV in this segment."
Buyers of the sportier SUV can pick from two engine options. The first is a four-cylinder, 2.0-liter turbocharged mill borrowed from the Golf GTI, which produces 235-horsepower and 258 pound-feet of torque. Second, is the larger V6 engine from the Passat, churning out 276-horsepower and 266 pound-feet of torque. Either way, you'll get an eight-speed automatic and the power going to the front wheels. VW will offer its 4Motion all-wheel drive system as an option for both the four-cylinder and V6 models.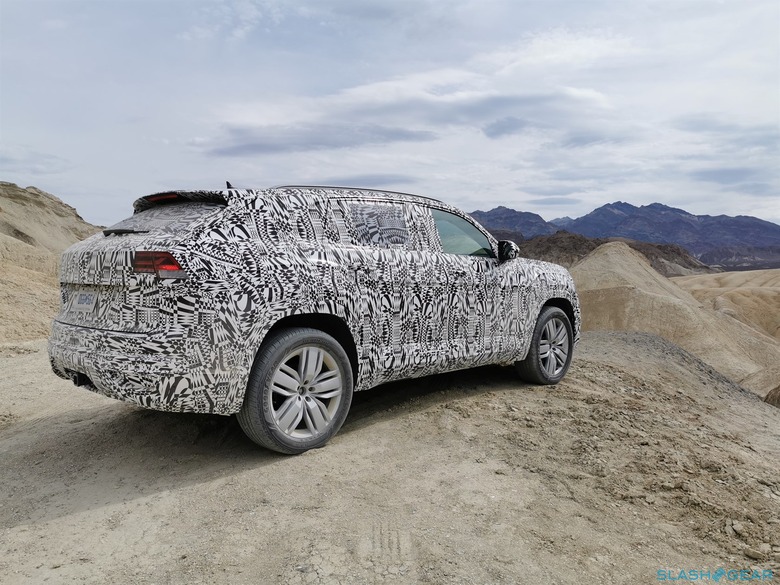 Since the VW Cross Sport is a go-anywhere five-seat SUV, it also comes with an optional towing package. This kit includes a larger and stronger 800W radiator fan to assist better engine cooling; a larger capacity 180A alternator; a wiring harnesses in the engine bay and an additional fuse box; a trailer control module; and a control module set up for the stability control system. When combined with the V6 engine and AWD, the Cross Sport has a maximum towing capacity of 5,000 pounds, which is just right for this segment.
I spent a fair amount of time towing a rather large Airstream with little to zero drama. If you've ever towed anything heavy before, you'll notice a sort of sine wave jerking movement. While it's subtle, riding as a passenger, I noticed it more than when I was in the driver seat. Just keep that in mind if you're planning on doing any towing over a long distance.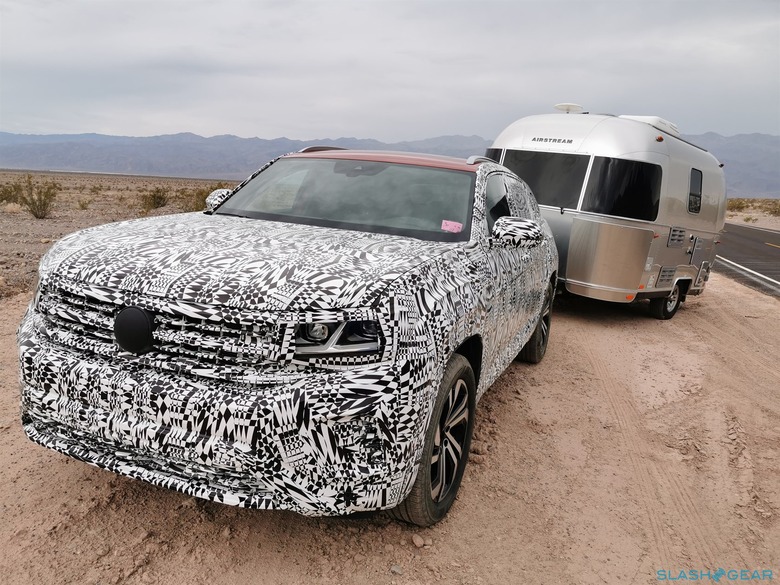 I've never been to South-East Asia in the thick of summer, but there's no question Death Valley is a scorcher – it wouldn't be one of the hottest places on Earth, and a ripe spot for endurance testing, if it weren't. In this hot and barren playground, I got behind the wheel of new Volkswagen Atlas Cross Sport prototype and I took it for a spin. Unsurprisingly, it didn't take long for me to discern it feels almost exactly like the three-row SUV.
That means notably light steering while the turning radius is like that of a smaller car. Think of this as high praise, considering the Atlas has similar driving dynamics to the Golf GTI on tight and winding corners. And, like the bigger Atlas, the Cross Sport doesn't weave or bobble when traversing over rough, bumpy, or uneven roads. It feels reassuringly composed and relaxing to drive, with the engine and chassis so well balanced that adding extra speed won't penalize you in either ride smoothness or comfort.
Indeed it doesn't take long to realize that, though the sloping roofline and resulting coupe-inspired shape may be sufficient to induce a sense of sportiness to some, it's hard to discern the difference between both vehicles. Even the pre-production Cross Sport prototype feels as solid as a rock, in typical German fashion.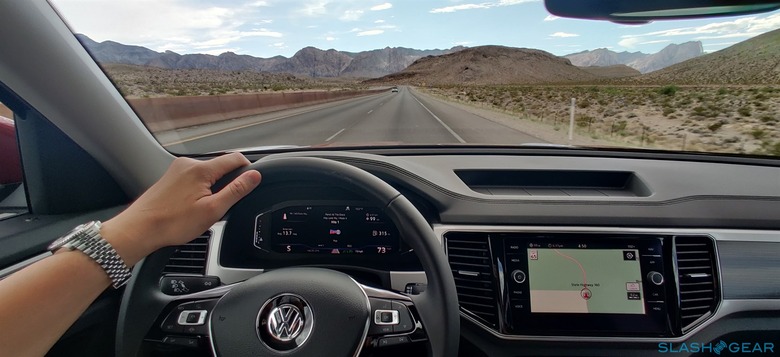 The interior is also typical Volkswagen with a clean sheet design and well-organized layout. Though draped in camouflage, the infotainment screen and center stack were clearly lifted from the Atlas as well. Again, this is not a bad thing at all, but I do wish the Cross Sport had more cubby holes and small storage spaces in the dashboard and console, a criticism I'd level at the three-row too. The Cross Sport may have inherited the regular Atlas' good points, but the hiccups have come along with that too.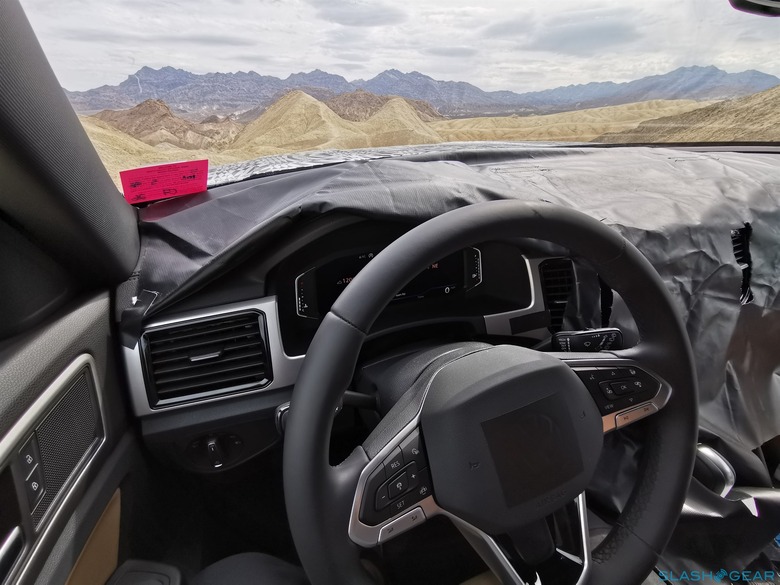 Major trim details are still sketchy at this point, but VW says the Cross Sport will also come with standard 900-lumen LED headlights, which are specific to the North American market. I also like the handsome front end which, Volkswagen says, we can expect to see on the refreshed 2020 Atlas SUV, too. Sadly, VW will probably not sell an R-line version of the Cross Sport in the U.S. market, but we can always hope and pray. Expect the Atlas Cross Sport to arrive at dealerships XXXXXX