Vol Speaker concept is awesomely minimalist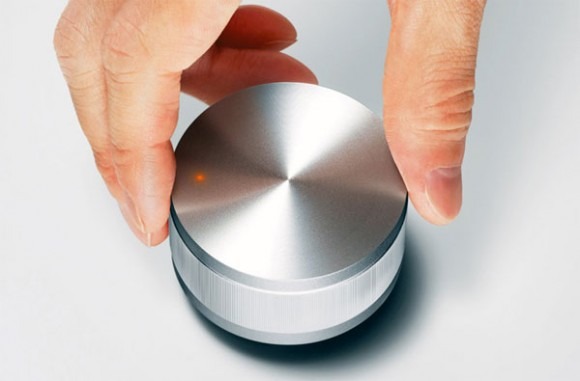 I love design concepts that are cool. We see concept speakers every now and again and of all of the concepts I have seen in the speaker category the Vol Speaker is the coolest. I love the idea of a speaker that looks like a giant volume knob. It looks like the designer ripped the knob off my home theater receiver, sprinkled it with Miracle Grow, and crammed speaker parts inside. The designer of the concept is Hironao Tsuboi.
Tsuboi designed the speaker concept for a tobacco company apparently. That seems odd to me, but I really hope that this concept comes to the real world. I can totally see this on my desk as a speaker for my computer or MP3 player. The concept is made from aluminum, the speaker can be turned on and off by turning the giant dial body. The concept is very clean with no buttons and adjusting the volume is accomplished by turning the knob as well.
The concept dimensions are 2.2-inches in diameter and 1.4-inches tall. The device is shown in black, silver, and blue colors. I really like the blue version. The speaker would be portable with a lithium ion battery and would have an audio in jack hidden inside along with a USB port and a DC port for use in the home or office.
[via DesignBoom]