Voddler launches on Lumia Windows Phones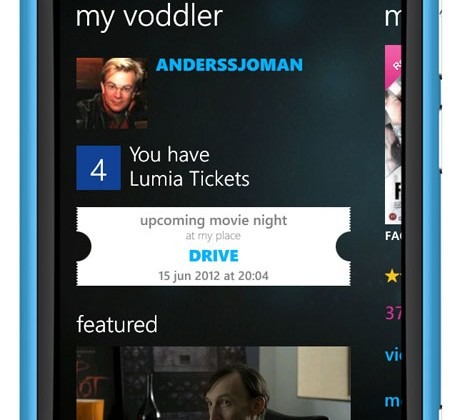 Having a wealth of movies available to rent and watch at your disposal is never a bad thing, and if you're a Lumia Windows Phone owner living in Europe, you now have another app to add to your entertainment list. Voddler is bringing the video-on-demand app to Nokia's smartphones along with some social sharing features. Voddler Lumia Movie Night lets friends schedule movie nights, in addition to reviewing and talking about movies.
The app is exclusive to Lumia devices, and will net you four months worth of Voddler Plus, normally costing €7.90 per month. In addition to that, you'll get two "Lumia tickets", allowing you to create and coordinate a Movie Night with a friend. If you don't want to pony up for the Plus service after that, you can always continue viewing the ad-supported movies for free.
Voddler is restricted to a few select European countries, though, including Sweden, Norway, Denmark, Finland and Spain. The company says that more market are on the way for 2012 though, so keep an eye out if this sounds like your kind of thing. The app should be sitting in the Windows Marketplace right now, waiting for those lucky enough to live in the selected countries.
[via Engadget]