Vodafone VIP Truck can charge 2000 mobiles at once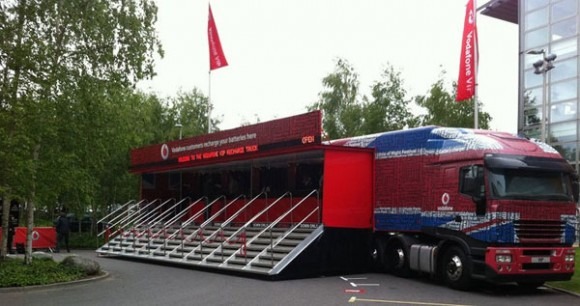 If you take your smartphone with you and head to a concert or other festival where you end up tweeting how all your pals should be there, shooting video and taking pics all with your phone you know how fast your battery can go dead. If you are in the UK and on the Vodafone network the company is going to 11 of the biggest festivals this year with a massive truck to keep its customers charged up and using data.
The giant 18-wheeler weighs 44 tons and has stairs that lead up to the charging lanes. It has enough power to charge 2000 devices at one time just as fast as it would at home. Vodafone thinks the truck will charge about 72,000 devices this summer alone. It appears that only Vodafone customers will be able to use the charge service. I'm not sure how they would know if you are a customer or not unless your device isn't on their network.
The photos of the inside of the truck show locking doors so I guess the user would leave their device, go back to the concert or festival and then come back later when it is all charged and ready to use. While the theme here is charge the devices up and people will use more data. Still it's going to be very nice for the customer to get a free charge when they need it.
[via TheNextWeb]