Vizio Tablet Unboxing And Hands-On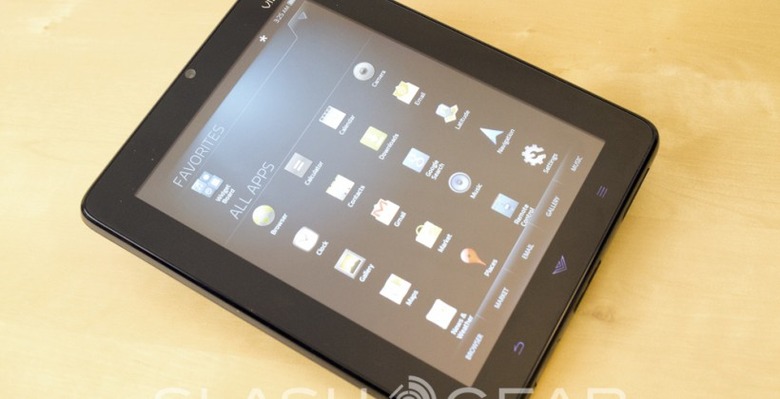 Vizio has long been known for its budget-friendly TVs and now they've entered the tablet market with their very first Android slate that's similarly affordable. It quietly hit the market recently for $349. Given its lower-end target, the Vizio Tablet obviously isn't competing for the most cutting-edge specs, but instead offers more functionality for the everyday consumer, packing in some rather unique features.
The Vizio Tablet offers an 8-inch multitouch display with a 1024x768 resolution and 4:3 aspect ratio. It sports a front-facing VGA (640x480) 30fps camera, but no rear-facing camera. Inside, it runs on a 1GHz single-core Marvell 600 Series processor with 512MB of RAM and has 2GB of internal memory that's expandable with a microSD up to 32GB.
For connectivity, it offers micro-USB, micro-HDMI, Bluetooth, and Wi-Fi. There's also the standard 3.5mm headphone jack, a physical on/off power button and volume rocker. When powered-on, three capacitive touch buttons light up for Back, Home, and Menu. They sit in the bottom frame of the bezel and adjust sides to remain below the screen when you switch between portrait and landscape modes.
Something else that also switches depending on landscape or portrait orientations is the Vizio Tablet's stereo speakers. This is one of the hardware features that really stands out about this budget slate. Instead of one, or even two, the Vizio Tablet has THREE speakers that adjust to allow for proper stereo sound regardless of which orientation you're using the tablet.
[vms 097b9558efefd0ecc358]
Another standout feature is the integrated IR blaster, which is certainly not seen included in any other tablet. It allows the Vizio Tablet to turn into a giant universal remote, capable of controlling up to 95% of your home entertainment devices. It taps into a third-party database of presets for thousands of TVs, media players, and set-top boxes.
Unfortunately, the Vizio Tablet does still run on Android 2.3 Gingerbread at the moment and its interface is so customized with Vizio's own skin, that you can't really tell what's running underneath. However, there is access to Android Market, and an upgrade to Android 3.2 Honeycomb is promised for the near future. But with such a customized skin, that day might not be too near.
I won't go into any further details as this is just my unboxing and hands-on for the Vizio Tablet. I'll be putting it to the test for lots of multimedia action, so make sure to check back on SlashGear.com for my full review.