Vizio SmartCast M65-D1 Review
TVs are getting smarter, either via an extra dongle like a Chromecast or through their own power. While Samsung, LG, Sony, and Sharp may be the household names when it comes to smart TVs, Vizio isn't one that can be easily ignored. It's practice of offering "bang for buck" premium features at affordable prices has put it in the sights of Chinese entertainment giant LeEco. Vizio definitely dodged the bullet there, but it served to highlight Vizio's market potential.
Nowhere is that potential actualized better than in the SmartCast M-Series of TVs, and particularly the M65-D1. So when Vizio offered SlashGear the M65-D1 SmartCast TV in exchange for the review, we happily accepted.
If the SmartCast TVs were smartphones, the M-Series would be Vizio's mid-range line while the P-Series would be its premium brand. That's not to knock off the M65-D1 and its siblings. In fact, this is where Vizio's promise of the perfect mix of features and price shines the brightest. You'd be hard-pressed to find a $1,300 4K UHD "smart" TV that supported both HDR industry formats with a decent display quality. But that's exactly what the M-Series promises and delivers. Well, mostly.
At this point, it should be important to note that there are 6 models in the M-Series and their differences aren't limited to sizes alone. The M65-D1 offers the sweet spot with its size, 120 Hz refresh rate, and 64 dimming zones. Buyers might want to avoid the 60-inch model, as it is the only one in the series using an IPS panel, while all other models use VA (vertical alignment) technology.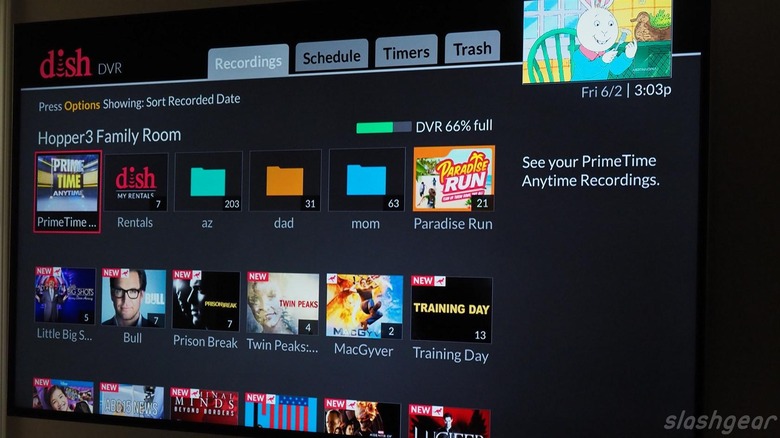 The M65-D1 is almost nondescript in its appearance. Just a 2.5-inch thick black box with half-inch bezels around. At the sides you have textured silver panels that try to give it a bit more character. If you love viewing your TV from the side. Ironically, its most distinctive visual feature is perhaps also its least attractive. The legs, made from curved chrome rods, look more like overgrown paper clips and do not exactly convey an image of stability.
You'll probably forgive and forget all that when you do start actually using the SmartCast TV for what it is: watching videos. The display is bright and colors are accurate. Viewing angles, though not completely wide, are as good as you're going to get on an LCD screen. Aside from some faint and almost unnoticeable dimming issues at the corners, the M65-D1 is near damn perfect. The full-array local dimming and its 64 active zones definitely improve the contrast in any lighting condition.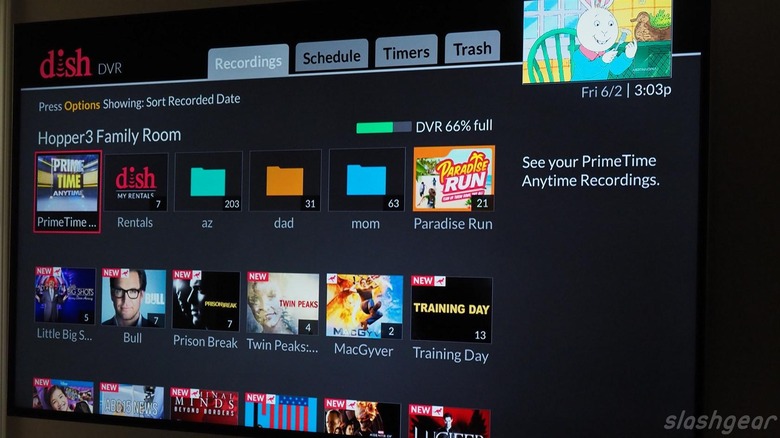 But a great screen would be for naught without great content, and here is where the M65-D1 and its M-Series siblings start to shine. Many HDR TVs support one or the other HDR standards, either Dolby Vision or HDR10. While the M65-D1 initially launched only with the former, a firmware update quickly followed enabling the latter as well. Granted, even today the breadth of HDR content is still underwhelming, but it's growing. Netflix and Vudu have started streaming HDR content while Blu-ray players and gaming consoles have also started supporting and promoting the HDR format.
Getting that content to the TV itself is where things get a bit tricky and where some of the warts of the M65-D0 become more visible. While the M65-D1 offers a variety of input connections, it is missing a very important one: a TV tuner. Traditional cable and antenna users will have to buy a separate third-party box that will bridge the two, which might sound disappointing. To be fair, Vizio doesn't technically call the M65-D1 and its kin as "smart TVs" anyway. It labels them as "Home Theater Displays", perhaps to get around that subject. In other words, the Vizio SmartCast M-Series are practically just glorified screens. But good performing ones nonetheless.
As mentioned, the M65-D0 has a variety of connectivity options, like an Ethernet port, a composite SPDIF port, and 5 HDMI ports. There is a catch there, however. Of the five HDMI ports, only the first port is actually capable of supporting HDR input. Take note of that when connecting your HDR player or console. The fifth HDMI port is also the only one that supports 1080p at 120 Hz that computers can utilize.
But how about streamed content? Despite its name, the SmartCast Home Theater Display is not a smart TV in the sense that it doesn't run apps on its own. The "cast" there pretty much says it all. Just like Google's Chromecast (and, in fact, it uses the same technology), you throw the content from a source, like a mobile device, to the Vizio SmartCast display. This is where the M-Series rather odd companion tablet comes in, bringing with it the M65-D1 weakest points.
Just as the SmartCast Home Theater Display is basically a glorified external screen, its companion tablet is a glorified and sometimes inconvenient remote control. Tablet in name, it is really an Android phablet in disguise. It comes with apps that you need for streaming right out of the box, like YouTube, Hulu, Netflix, Vudu, and more. Amazon Videos, however, is absent because of platform difference. Vizio's own SmartCast app lets you control the M65-D1's playback functions as well as its myriad settings. In fact, you can only do that on the tablet. While Vizio does throw in a "dumb" traditional remote, it only has buttons for power, volume, input switching, and similar. All other settings and controls has to happen on the tablet. Ironically, the remote has buttons to change channels, even if the SmartCast itself has no channels to change anyway.
Pairing the tablet and the "TV" is easy. You just need to bring the tablet near the lower right corner of the display. It's a good thing that it's easy, because you might be doing that a lot. The connection between the two devices are, at times, unstable. Switching to another Wi-Fi network other than the initial setup connection is an exercise in patience. Worst is when the tablet gets a system update, which halts the operation of the tablet. And since activity on the SmartCast itself is largely dependent on the tablet, that means a pause in viewing while waiting for the update to finish. Vizio provides a wireless charging dock for the tablet, to keep it juiced up and keep it from getting lost. That does, however, require you to have a surface to place the dock on as well as a power outlet nearby to plug it into.
The Vizio SmartCast M65-D0 might not be able to compete with Samsung's QLEDs or Sharp's IGZOs in terms of quality of screen technologies. It might not also be able to keep up with more versatile smart TVs. And it definitely loses out on such TVs that still manage to offer a standard coaxial cable input. But it will also be hard to deny its proposition: a budget-friendly, HDR-compatible streaming display with a bright and beautiful 4K screen. And just as mid-range smartphones are posing a threat to the bigger players in the market, so too are the likes of the Vizio M65-D0 poised to undercut their bottom lines.